Some of the links on this site may be affiliate links. This means, at no additional cost to you, I may be paid a small commission if you follow the links and make a purchase. Learn more here.
No one wants to get sick, but let's face it. It's bound to happen. For whatever reason, it happens more in the colder months than the summer. Maybe it has to do with the weather getting colder, or the days getting shorter. Whatever the reason, it's coming (or maybe it's here already). Keep reading to learn about essential oils to boost immunity for the whole family.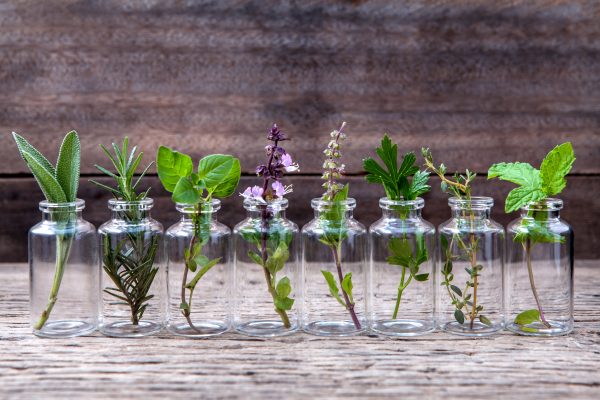 The best thing we can do to prepare for (and hopefully prevent) sickness is take steps to boost our immunity. There are many ways to boost immunity.
Using essential oils are a natural way to boost immunity for the whole family. If you're planning on using essential oils on kids, read this article to learn about what to consider to be safe.
What are essential oils?
Essential oils are concentrated plant extracts that contain the "essence" of the plant. They are used for aromatic and wellness purposes all over the world.
How do you use essential oils?
Essential oils can be used in a few different ways.
Through a diffuser - This is one of the most effective ways to use essential oils.
By topical application - Another effective way to use essential oils is to apply them to your skin. Make sure to dilute the oils with a carrier oil (olive, jojoba, avocado, sweet almond, and coconut oil) are good options.
For household purposes - You can use essential oils in creating your own household cleaners to make non-toxic home cleaning solutions.
Where to get essential oils?
When you're shopping around for essential oils, it's important to make sure the oils you're using are 100% pure. There are plenty of companies that sell the impure stuff.
Personally, I use Rocky Mountain Oils. Before I bought my first essential oils I did a lot of research about which company to buy through.
I landed on Rocky Mountain Oils because of a few reasons.
Their oils are high quality and tested by an independent lab.
Free shipping over $25
I don't have to order oils through a representative. I can order anytime I want online.
90 day return policy (even if they're opened...for any reason) with return shipping expenses paid for by the company. If that's not a risk-free purchase, I'm not sure what is.
They clearly mark each oil with the recommended methods of using.
9 Essential Oils To Boost Immunity
Below is a list of single oils, as well as essential oil blends (meaning a combination of several different oils).
1. Tea Tree
Tea tree is extremely useful and can effectively fight bacteria, viruses and fungi. It also is anti-inflammatory, immune-stimulating, and has wound healing properties.
Rocky Mountain Oils Tea Tree Oil (or here's another great brand on Amazon).
2. Lavender
Lavender has a LOT of benefits. Diffuse it or use it topically, or even around the home. It can be used to relax your mind and body, promote restful sleep, and balance everyday tension and stress.
Diffuse it to cleanse the air and help combat environmental threats.
Rocky Mountain Oils Lavender Oil (or here's another great brand on Amazon).
3. Lemon
Lemon oil has high levels of Vitamin C and can be used to boost immunity, heal a variety of skin issues, and it also provides anti-aging and antioxidant properties.
It lifts the mood and just makes you think "clean".
Use it in a diffuser, topically, or in household products.
Rocky Mountain Oils Lemon Oil (or here's another great brand on Amazon).
4. Peppermint
Peppermint oil can be used to boost energy and alertness. It can help ease the tension and strong emotions.
When used topically, it has an icy-hot effect on the skin (and can also be used to sooth sore muscles).
Rocky Mountain Oils Peppermint Oil (or here's another great brand on Amazon).
5. Immunity blend (roll on)
This blend encourages a healthy immune system while soothing and comforting. It's safe for kids two years or older. It's one of their best sellers!
Since it's a roll on, you can use this topically (although not recommended near the face).
Rocky Mountain Oils Immunity Blend
6. immune strength Blend By RMO
A blend of several essential oils. Similar to the immunity blend above, but this isn't a roll on. Use it with a diffuser or topically (with a carrier oil).
Rocky Mountain Oils Sacred Immune Strength
7. Flu Time Blend By RMO
This blend is part of the Rocky Mountain Oils Wellness Collection. In its description, they advise to use it to calm and soothe your stressed mind and body, while promoting physical energy.
Rocky Mountain Oils Flu Time Blend
8. Purify Blend BY RMO
Use this blend (with a clean lemon scent) to purify the air in any room of the house. Use it in cleaners or diffuse it in your home.
Rocky Mountain Oils Purify Blend
9. Breathe Ease by RMO
An essential oil blend that helps you breathe easier. If you're struggling with congestion and coughing, diffuse this blend and take a few deep breaths.
Rocky Mountain Oils Breathe Ease
Using Essential Oils For Immunity
There are many ways to boost your immunity. And essential oils are just one piece of the much bigger puzzle.
Make sure you're eating real foods, exercising, getting adequate sleep, and taking steps to reduce the stress in your life.
Boost your immunity (and make your house smell great) by diffusing some of these oils in your house.
How do you prepare for cold and flu season? Do you do anything special to boost your family's immunity?
Pin this for later