Some of the links on this site may be affiliate links. This means, at no additional cost to you, I may be paid a small commission if you follow the links and make a purchase. Learn more here.
In this post, I'm sharing what I've learned about what order to apply skincare products. At first glance it may appear to be a lot of steps, but rest assured...it's only four simple steps:
Cleanse
Prep
Treat
Protect
Why Order Matters With Your Skincare Routine
Many people who don't have a skincare routine admit one big reason they don't is because they're overwhelmed by all the steps. Are all those products really necessary? How do you remember what order to apply the products?
Honestly, I get it.
Too many options leads to decision fatigue (have you ever been overwhelmed by the toothpaste aisle? I know I have, and that's just one product.
With skincare, you've got a cleanser, toner, serum, moisturizer, makeup. Maybe other products too like sunscreen, face oil, or a charcoal mask. How do you know which products to use, and which goes first?
The truth is, each product has a specific purpose.
When you decide on a skincare routine, you have a choice to use individual products and piece a routine together or use a regimen that's specifically formulated to work together.
By using a regimen rather than picking random products off the shelves (or skipping steps), you'll see a more noticeable difference in your skin since the products are designed to work together. Check out the safer skincare regimens at Beautycounter here.
How to apply a skincare regimen in the right order
You can follow these steps with any regimen from any brand you choose.
Most brands have regimens that follow the same format of cleanse – prep – treat – protect.
It may seem like a lot of products when you line them all up, but it only takes me about a minute or two from start to finish, morning and night.
If you take a look at your medicine cabinet, you'll likely see a LOT of products. Some you currently use, some you don't. Your skin is the largest organ in your body, and what you put on your skin absorbs into your body in 20 seconds, so make sure what you choose to use is safe and free of these products.
STEP 1: CLEANSE
Use your cleanser to wash your face. This will remove makeup, oil, dirt, and other impurities.
There are several types of cleansers. Foaming cleansers, cleansing oils, and cleansing balm. Sometimes your cleanser will act as a makeup remover, or you might prefer to use a separate makeup remover and then use your cleanser.
Beautycounter cleansers purify your skin without harsh surfactants.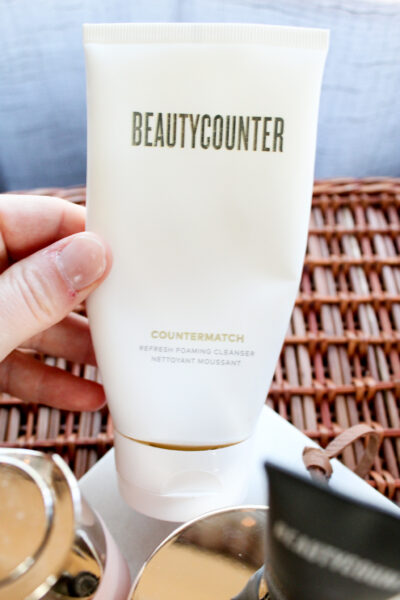 WHAT I USE:
Countermatch Foaming Cleanser - This creamy foaming cleanser features squalane, plum oil, and phytic acid to remove face and eye makeup, wash away impurities, and get you glowing. Leaves skin feeling soft and smooth, not tight or dry.
Lotus Glow Cleansing Balm - This multi-tasking cleansing balm is perfect for day and night use. It hydrates while it cleanses, removing makeup and impurities with nourishing ingredients that won't strip away your skin's natural moisture. With a blend of lotus extract, jojoba seed oil, and avocado seed oil, Lotus Glow Cleansing Balm soothes and destresses skin while increasing luminosity.
STEP 2: PREP
Toners and essences help prep your skin for maximum product absorption. This is a step that many people leave out, but it's actually super important.
If you're trying to save money on your skincare routine, you may be tempted to get by with the least amount of products. But if you're going to spend money on serum, treatments, and moisturizer, you want those to be doing their very best job (which is where the toner comes in).
WHAT I USE:
Micellar Water Toner (Non Beautycounter)
STEP 3: TREAT
The treat step is where we target your concerns. Most people use a serum, which is a super-concentrated dose of nutrients designed to target a specific concern like hydration, acne spot treatments, or anti aging. Products like acne treatments, salicylic acid, vitamin C serums, and retinol fit into this category.
If you do have more than one targeted treatment, it's best to use one at a time instead of layering them all on at once.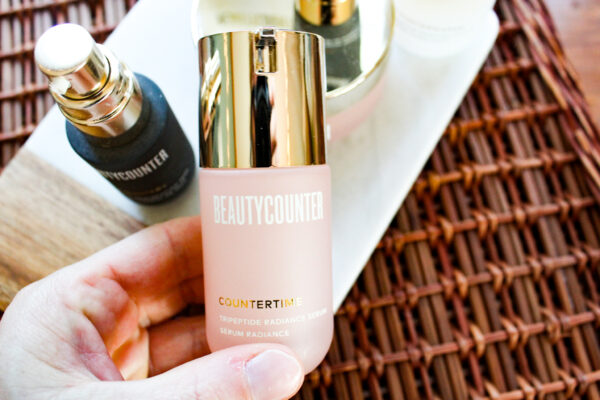 WHAT I USE:
Countertime Tripeptide Radiance Serum (AM) - The Countertime Serum has a blend of peptides, amino acids, Bakuchiol (a natural alternative to retinol) and Swiss Alpine Rose to increase skin firmness, reduce the appearance of fine lines, and improve the moisture barrier.
Overnight Resurfacing Peel (EVERY OTHER PM) - The Overnight Resurfacing Peel is magic in a bottle. It is composed of 15 different ingredients, including glycolic, malic, and botanically derived lactic acid.
STEP 4: PROTECT
After you've cleansed and opened your pores with your cleanser, prepped your skin with your toner, and added a boost of nutrition with your serum, you want to seal it up with your moisturizer.
By protecting your skin with moisturizer, you'll rehydrate your skin, maintain optimal hydration, and strengthen your skin's barrier. This will also help protect it from any environmental toxins throughout the day.
Tip: If you're using an eye cream, dot it around the eye area and follow with moisturizer. Also, a natural zinc based sunscreen should go on last because the zinc is a physical blocker of the sun's rays.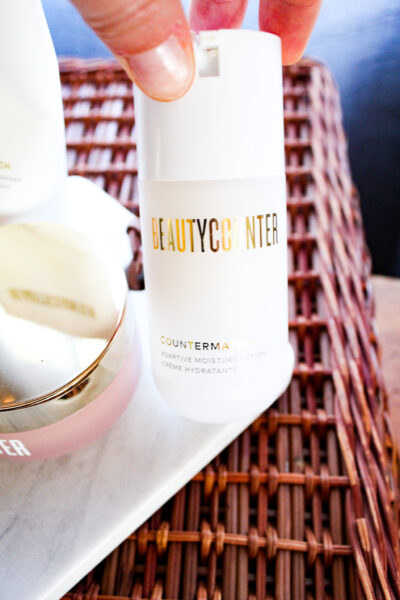 WHAT I USE:
Countermatch Adaptive Moisture Lotion (AM) - Packed with two forms of hyaluronic acid, plus vitamins C and E, this intensely moisturizing serum, without mineral oil or synthetic fragrance, delivers a boost of lasting hydration and antioxidant protection. With continued use, skin will feel firmer and look brighter with a more even tone.
Countertime Supreme Cream (PM) - Supremely rich and deeply hydrating, this cream supports elasticity and visibly firms while minimizing the look of fine lines and wrinkles.
Where to find a complete skincare regimen
If you're looking for a skincare regimen, the Beautycounter regimens offer an all-in-one solution. And, if you don't already know...Beautycounter is a safer skincare company with over 1800 ingredients on their "Never List".
Choose a regimen based on your skin type:
If you don't know where to start, fill out this questionnaire and I'll email you customized recommendations based on your skin type and budget.
Here's a handy chart to get you started with a regimen!
This chart is a great place to start (although I personally think the Countertime regimen works for balanced skin, for anyone concerned about aging).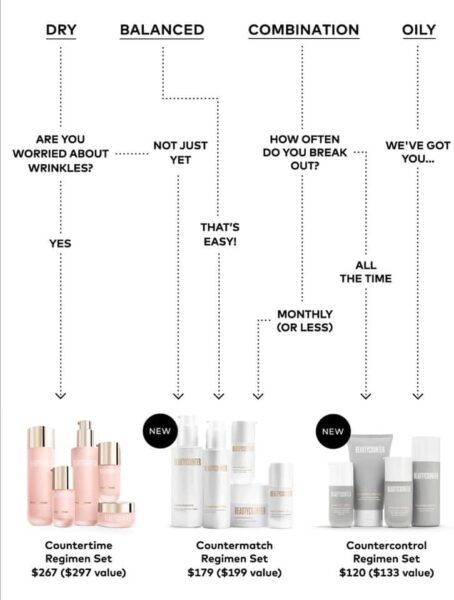 Want 20% Off Your First Order?
Fill out the form on this page to be added to my Beautycounter newsletter where I give away free samples, and keep you informed on all things Beautycounter and clean beauty (plus you'll get a 20% off coupon code in your first email).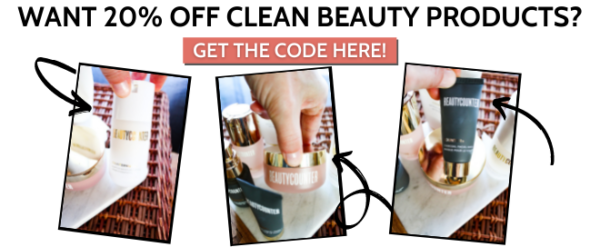 Save this for later!