Some of the links on this site may be affiliate links. This means, at no additional cost to you, I may be paid a small commission if you follow the links and make a purchase. Learn more here.
Looking to indulge your sweet tooth with a little cookie dough treat? You've come to the right place. This edible cookie dough is gluten free, dairy free, and sweetened with honey, but honest to goodness it tastes like the real deal.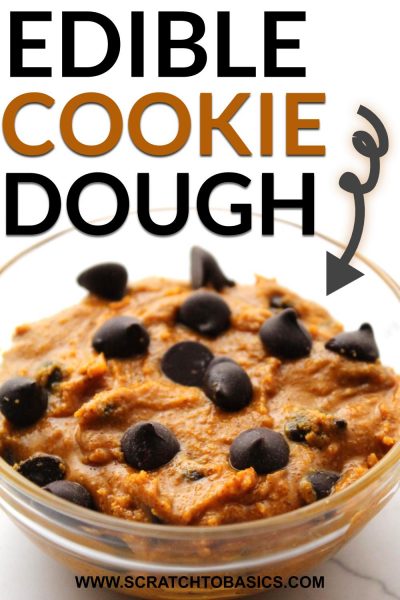 Why does cookie dough taste better than cookies?
For some reason when I make cookies, all I really want to do is eat the cookie dough.
Seriously...I eat the cookie dough, and then let everyone else eat the finished product. There's just something about cookie dough. Who's with me?
Tools used to make Edible Paleo Cookie Dough
Ingredients used to make this recipe
How to make this recipe
This recipe couldn't be simpler. Mix all the ingredients together and grab a spoon! You can refrigerate it to harden it if you'd like, but if you're ready to eat your cookie dough...go ahead!
This recipe makes enough for 1-2 people to enjoy as a tasty Paleo treat. Double or triple the recipe and freeze them for later.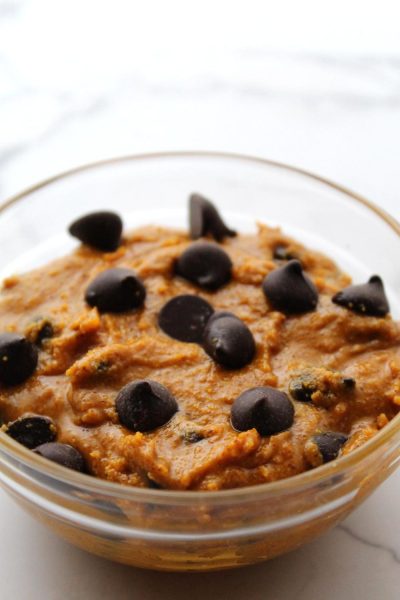 Is cookie dough without eggs safe to eat?
The danger with eating raw cookie dough is the risk of getting salmonella from the raw egg. But there's no eggs in here.
Most cookie dough also has wheat flour, which is best not to eat raw. But this recipe uses coconut flour. Since coconut flour is just coconut meat, it's completely safe to eat raw.
What are cookie dough bites made of?
Normally cookie dough bites are made with butter (or vegetable oils), wheat flour, and plenty of refined sugar. These are made differently to be gluten free, grain free, dairy free, and Paleo.
Make ahead & storage Tips
This edible cookie dough might be a little runnier than you're used to when you first mix it together. To harden, refrigerate for a couple hours. At about 4 hours it has the consistency of cookie dough.
It should keep for about a week in the fridge. Alternately, you can make a double batch and freeze balls for later.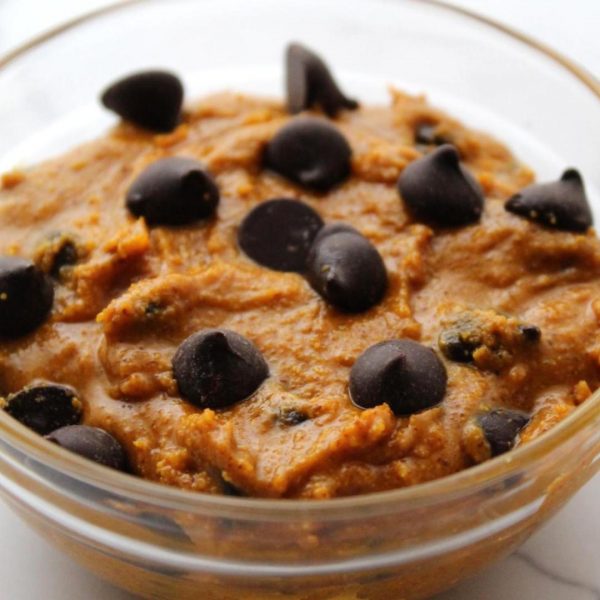 Paleo Edible Cookie Dough
Have you ever wanted to make cookies JUST so you could eat the dough? If so, this edible Paleo cookie dough recipe is for you.
Ingredients
2 Tbsp almond butter
2 Tbsp ghee (or palm shortening)
½ teaspoon vanilla
1 tsp honey
2 Tbsp coconut flour
¼ tsp salt
¼ cup chocolate chips
Instructions
Mix the almond butter, ghee, vanilla, honey, coconut flour, and salt in a small mixing bowl.
Add the chocolate chips and stir to combine.
Roll into a couple balls and freeze, or refrigerate to harden, or enjoy right away with a spoon.
Notes
The cookie "dough" will be more liquid than you're likely used to right after mixing it together. To harden, refrigerate for a couple hours until it's the consistency you want.  
Nutrition Information:
Yield:

8
Serving Size:

1 Tbsp
Amount Per Serving:
Calories:

92
Total Fat:

7g
Saturated Fat:

3g
Trans Fat:

0g
Unsaturated Fat:

4g
Cholesterol:

8mg
Sodium:

75mg
Carbohydrates:

6g
Fiber:

1g
Sugar:

4g
Protein:

1g
Pin this for later