Some of the links on this site may be affiliate links. This means, at no additional cost to you, I may be paid a small commission if you follow the links and make a purchase. Learn more here.
Looking to indulge your sweet tooth with a little Healthy Edible Cookie Dough? You've come to the right place. This vegan edible cookie dough is gluten free, dairy free and sweetened with honey (or maple syrup), but honest to goodness it tastes like the real deal.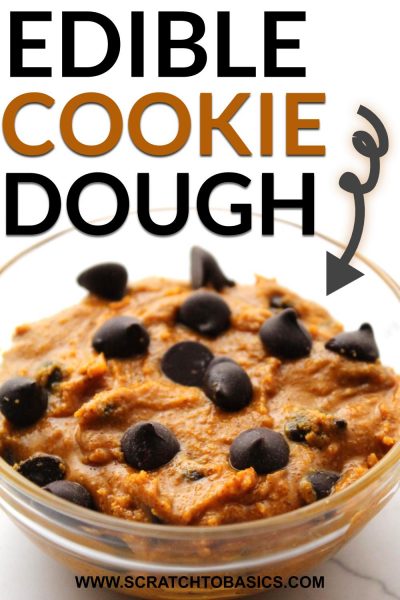 Why make edible cookie dough at home?
Like everything else, you don't get to have any control over the ingredients when you purchase something pre-made at the store. Which means you can make things your way at home.
Also, most of the time when you're eating cookie dough, it's because you just made cookies and want to nibble on the dough (tell me I'm not the only one, friends).
The problem with that is there's raw egg, and other ingredients that really should be cooked before eating.
Not so with this recipe.
It's made with ingredients that you can safely, and deliciously eat raw.
Ingredients used to make edible cookie dough
Almond butter - This is the base of the cookie dough. You could swap for cashew butter, but the flavor won't be quite the same.
Ghee - Ghee is tolerated by many people who have a dairy intolerance, because the milk proteins are removed. You get a buttery flavor, without the dairy. Alternatively, you can use palm shortening. Here's a palm shortening I like.
Vanilla - Use the good stuff - pure vanilla extract. Here's some on Amazon.
Honey - I like using raw honey. For a vegan cookie dough, swap out the honey for maple syrup.
Coconut flour

-

I can usually find coconut flour in my local grocery stores, but if you're having a hard time - here it is on Amazon.
Salt - I like this pink salt because the minerals are still there (and I love the taste).
Chocolate chips - These are my go-to chocolate chips if I'm being strict in dairy avoidance. I love the dark ones (here they are on Amazon). Use you favorite chocolate chips here!
Tools used to make edible cookie dough
How to make this gluten free edible cookie dough
This recipe couldn't be simpler. Mix all the ingredients together and grab a spoon!
You can refrigerate it to harden it if you'd like, but if you're ready to eat your cookie dough...go ahead!
This vegan edible cookie dough recipe makes enough for 1-2 people to enjoy as a tasty Paleo treat.
Double or triple the recipe and freeze them for later.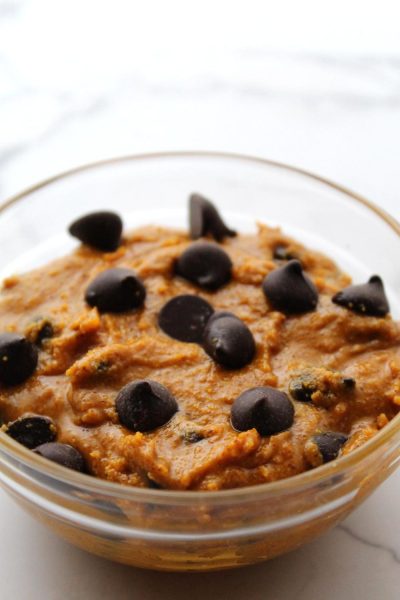 FAQ & Recipe Tips
Is cookie dough without eggs safe to eat?
The danger with eating raw cookie dough is the risk of getting salmonella from the raw egg. But there are no eggs in here, so you don't need to worry about that.
Also, most cookie dough also has wheat flour (unless it's gluten-free), which is best not to eat raw. This recipe uses coconut flour, and since coconut flour is just coconut, it's completely safe to eat raw.
What are cookie dough bites made of?
Normally cookie dough bites are made with butter (or vegetable oils), wheat flour, and plenty of refined sugar. This recipe gives yummy bites of cookie dough that are gluten free, grain free, dairy free, Paleo, and vegan (if you swap the honey for maple syrup).
Related Recipes
Looking for more yummy cookie-type recipes? I've got you covered, my friend.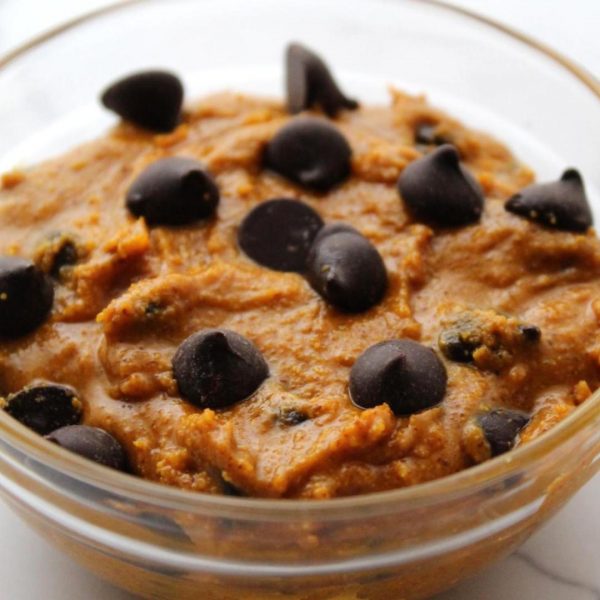 Healthy Edible Cookie Dough
Have you ever wanted to make cookies JUST so you could eat the dough? If so, this edible Paleo cookie dough recipe is for you.
Ingredients
2 tablespoon almond butter
2 tablespoon ghee (or palm shortening)
½ teaspoon vanilla
1 teaspoon honey (or maple syrup)
2 tablespoon coconut flour
¼ teaspoon salt
¼ cup chocolate chips
Instructions
Mix the almond butter, ghee, vanilla, honey, coconut flour, and salt in a small mixing bowl.
Add the chocolate chips and stir to combine.
Refrigerate to harden, or enjoy right away with a spoon.
Notes
The cookie "dough" will be more liquid than you're likely used to right after mixing it together. To harden, refrigerate for a couple hours until it's the consistency you want.  
If you want the cookie-dough in little balls, put some dollops on a cookie sheet and freeze. Once frozen, you can transfer to a sealable freezer bag.
Nutrition Information:
Yield:

8
Serving Size:

1 Tbsp
Amount Per Serving:
Calories:

92
Total Fat:

7g
Saturated Fat:

3g
Trans Fat:

0g
Unsaturated Fat:

4g
Cholesterol:

8mg
Sodium:

75mg
Carbohydrates:

6g
Fiber:

1g
Sugar:

4g
Protein:

1g
Save This For Later on Pinterest