Some of the links on this site may be affiliate links. This means, at no additional cost to you, I may be paid a small commission if you follow the links and make a purchase. Learn more here.
If you've been searching for a Paleo pancake mix that's not dry, fluffy, and just kind of..."blah"...you've found the recipe of your dreams, my friend. Before I created this recipe I'd tried all the recipes out there, and none of them quite tasted "right". But for over a year now I've been keeping these a secret from you, and for that I'm sorry.
I keep a container of this Paleo pancake mix in our pantry, and when it's pancake time I add two eggs and water to a cup of the dry stuff.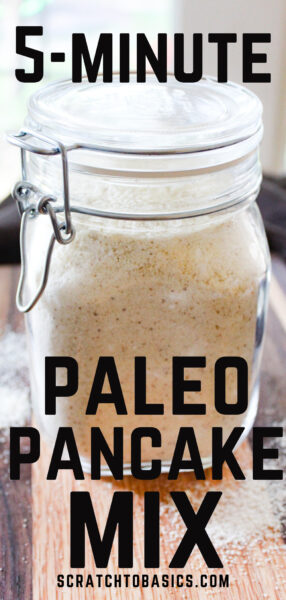 Easy peasy.
And oh, so good.
This recipe is grain free, gluten free, dairy free, and actually tastes like the real deal. Pinky promise.
Paleo Pancake Mix Ingredients (Dry)
Like I said before, this recipe is really so easy. Make the dry powder by mixing all the dry ingredients together. Personally, I dump it in a container, put the lid on and shake it up.
Keep it in a sealed container in a cupboard or your pantry. Typically I make a triple batch and it lasts us several weeks (depending on how often we have pancakes).
Here are the ingredients:
Almond flour (the main ingredient)
Tapioca flour (you can sub arrowroot powder)
Coconut sugar (you can sub monkfruit, or regular sugar (if not Paleo))
Baking Powder
Salt
Other than that, you just need a spot to put your jar in the pantry until you're ready to cook.
Making the Pancakes From the Mix
When you're ready to make the pancakes, you'll also need:
Eggs
Water (or your milk of choice)
Scoop 1 cup of your dry pancake mix with 2 eggs and ¼ cup - ½ cup water (or milk of choice). ¼ cup will yield thick pancakes, ½ cup will yield thinner.
Mix it all together then cook your pancakes on a hot skillet.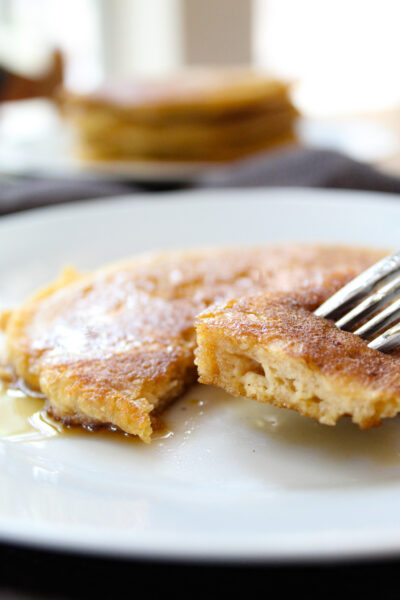 After that, all that's missing is something yummy to put on top...peanut butter and maple syrup? Honey? Freshly made strawberry jam? You do you, my friend.
I hope you enjoy these as much as we do.
Other tasty breakfast recipes you an enjoy today: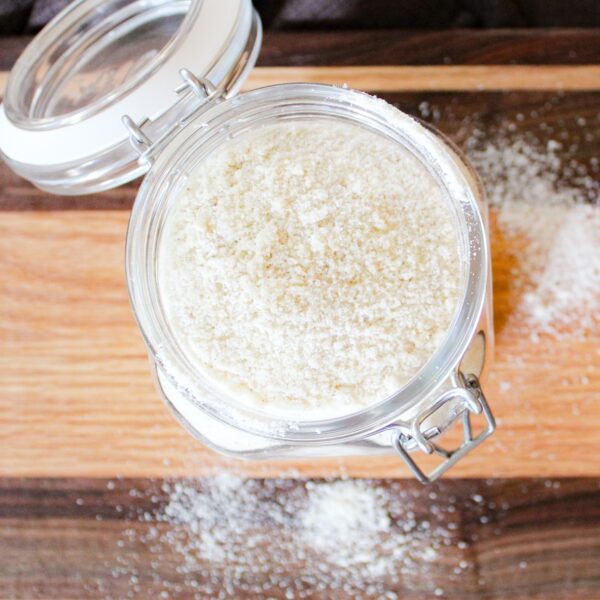 Almond Flour Paleo Pancake Mix Recipe
Yield:
8 x 4 inch pancakes
Make this Paleo Pancake Mix today and have ready-to-eat high protein pancake mix waiting for you when you need it.
Ingredients
Dry Pancake Mix
1 cup Almond Flour
⅓ cup Tapioca Flour
1 Tbsp Coconut Sugar
1 tsp Baking Powder
½ tsp Salt
Wet Ingredients
2 Eggs
¼ cup - ½ cup water
Instructions
Heat a skillet on your stovetop on Med-Low heat.
While the pan is heating up, add dry ingredients to a small bowl.
Stir in wet ingredients.
Cook on one side in the pan until bubbly on top, flip over and cook for another 30 seconds.
Top with your topping of choice and enjoy!
Notes
I always make the powdered mix ahead of time (usually a triple batch) and scoop out 1 cup of dry mixture, combine with 2 eggs and enough liquid for how I like it.
Nutrition Information:
Yield:

6
Serving Size:

1
Amount Per Serving:
Calories:

164
Total Fat:

11g
Saturated Fat:

1g
Trans Fat:

0g
Unsaturated Fat:

9g
Cholesterol:

62mg
Sodium:

300mg
Carbohydrates:

12g
Fiber:

2g
Sugar:

3g
Protein:

6g
Save this recipe for later on Pinterest