Some of the links on this site may be affiliate links. This means, at no additional cost to you, I may be paid a small commission if you follow the links and make a purchase. Learn more here.
Most likely you already have an idea of what a dehydrator does to have gotten you this far into your research. But what's the difference between using a dehydrator versus drying foods in the oven? Is it worth buying a separate dehydrator?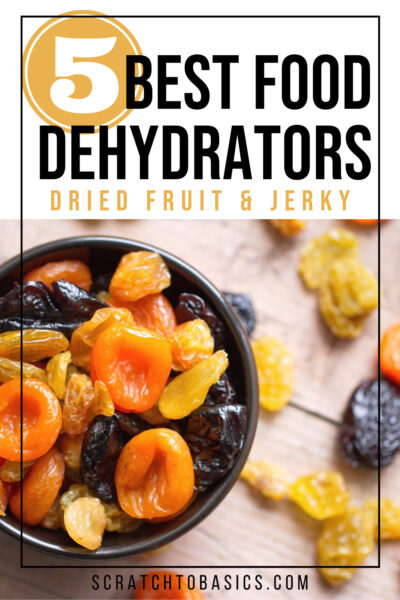 Both of those are valid questions, especially when you're trying to save money on a budget. You can take advantage of adding one of the best food dehydrators to your home to make dried fruit or jerky for snacks while getting both better flavor and better value versus store-bought products. And we all love to save money on groceries, right?
Below you'll find just about everything you need to know to make the right decision about choosing and purchasing a food dehydrator for your family's needs. I've included both a list of recommended products as well as a buying guide for you to feel confident in your decision.
What Is A Food Dehydrator
A food dehydrator is exactly what it sounds like - a small appliance that dries out food.
Most people ask "why do I need a dehydrator?" because they reason that they have a perfectly good oven in their kitchen, and heat will dry things out. So why not just use the oven?
There's a subtle difference in how dehydrators work for drying food. Food dehydrators evenly circulate air at low temperatures to provide consistent, even drying. With a quality appliance, you won't end up with overly crispy spots and still squishy spots on the same apple chunk, for example.
Your oven, in contrast, does not circulate air (unless you have a convection oven), and they often release more heat in spurts so the temperature is not going to stay consistent over the long length of time it will take to make good dried fruits or jerky. More importantly, your oven may not even reach the low temperatures needed for some dehydrator recipes.
There are two types of food dehydrators:
Vertical Flow Food Dehydrators
These are a common design, with stackable racks and a compact design. You'll often see the heat source and controls at the bottom. This is typically the more affordable type of dehydrator.
This design is good as a food dehydrator for dried fruit, but you'll likely struggle to get truly good jerky out of these appliances, without manually switching the stacking order of the trays for even exposure.
Horizontal Flow Food Dehydrators
These look more like a little tiny convection oven for your countertop, with a rear heat source and a fan. They include many racks which slide into channels or supports inside the box design.
These are almost always more expensive than the vertical models, but they do a very nice job at evenly heating all the racks since there isn't much difference in distance from rack to heat source. Another perk is they don't need manual tray rotations, making these a better food dehydrator for jerky.
Best Food Dehydrators Buying Guide
There are a handful of factors to consider when you're deciding on the best food dehydrator to buy:
Price
The first most important part of your research and decision is firming up your price range. It does you no good to obsess over the features of a dehydrator that costs twice what you can spend on one.
Set yourself a purchasing budget and stick to it. You can absolutely get a good quality dehydrator for most jobs for well under $100, but for those extra-large capacity dehydrators with a few extra bells and whistles, you'll be looking at the $100+ price range if not much higher.
Ease Of Use
If it's hard to use, it's not going to get used. You and I both know that!
Almost every model will be fairly straightforward to use. When you consider the need to manually rotate shelves for some foods on a vertical model versus just set it and go on a horizontal model, you can better see the difference.
Extra features and controls are nice, but if they're too complex to quickly and easily navigate through to get a cycle started, you might find yourself using your appliance far less often than you'd hoped.
Size/Capacity
This comes into play for two reasons: first, how much storage space you have for it when it's not in use and, second, how much you want to be able to dehydrate at once.
If you only plan to make (almost) on-demand dried fruits for a snack, you likely won't need or want quite the same size as if you plan on making massive batches to store away once every few months.
The vertical flow models will offer a smaller footprint but with noticeably less food capacity per cycle.
Extra Features
While an entirely manual appliance isn't a bad thing (and will be much more affordable), if you're planning to dehydrate foods in any appreciable and regularly large volume, you might want some extra help where you can get it.
Some features that make the job a little more pleasant are:
Thermostat (to keep temperatures accurate for the food you're working on)
Auto shut-off (perfect for longer runtimes that may end after bedtime, or for the "crockpot" of dehydrators type of convenience -- you can run it while you're at work!)
Timer (paired with the auto shutoff, this is a dream come true)
5 Best Food Dehydrators For Homemade Dried Fruit & Jerky
Best Food Dehydrators For Everyday, Multipurpose Use:
This stackable dehydrator is affordable but powerful. It definitely tops the list for both affordability and function, especially since you can expand to use up to 30 trays! That packs a LOT of dehydrating ability into a very small footprint.
The built-in Converga-Flow air circulation system makes this one of the best food dehydrators for jerky, plus one of the best food dehydrators for dried fruit as well.
Features:
Size
Power
Tray Count

8 BPA-free plastic trays; expandable up to 30

Temperature Range

95-160 degrees F; 7 intervals

Extra Features

Converga-Flow system (even heat without rotating trays)
Accessories included: 8 fruit roll sheets, 8 clean-a-screens, jerky seasoning sample, recipe booklet
Can purchase additional trays to expand the unit
Dishwasher safe trays

Price
Warranty
At a very nice price compared to many options out there, this is a quite capable machine and one of the best-rated food dehydrator choices you'll find. It has a smaller footprint than the first option on this list and runs fairly quiet, plus it offers a nice set of extra features.
The wattage is fairly low, so you may find this machine requires longer runtimes than the Nesco would.
Features:
Size

13.8 x 11.3 x 13.8 inches

Power
Tray Count
Temperature Range

95-160 degrees F; digital control to fine-tune your setting

Extra Features

Digital LED display with touch controls
Programmable time settings (0.5-48 hours)
Auto shutoff
Memory functions
Accessories included: mesh screen, fruit roll screen, recipe book

Price
Warranty
This is another very nice, budget-friendly option that offers some nice extra features in a compact footprint. Just like the second option on this list, it features a continuous airflow mechanism to circulate the hot air to reduce the need for manually rotating the trays.
Features:
Size
Power
Tray Count
Temperature Range

100-160 degrees F; digital control to fine-tune your setting in 5 degree increments

Extra Features

Digital LED display with touch controls
Programmable timer, up to 48 hours (1-hour increments)
Auto shutoff
Accessories included: fine mesh screen, fruit roll screen, recipes included in user manual

Price
Warranty
Best Food Dehydrator For Jerky:
This may be one of the best food dehydrators for a home with napping babies since it is about as quiet as a typical microwave, which is definitely a tolerable level! The lower wattage may have something to do with it, but the design helps make up for that.
It's the first horizontal style dehydrator on this list, but it's definitely a really affordable and quality option to compete with the first three quite well. The horizontal design provides a more consistent and even airflow, so this is the preferred style of dehydrator for making jerky with the least need for hands-on from you.
Features:
Size
Power
Tray Count
Temperature Range

95-158 degrees F; 8 intervals

Extra Features

Digital LCD display with push-button controls
Programmable timer (0.5-19.5 hours; ½ hour increments)
Auto shutoff
Memory functions
Accessories included: 6 mesh liners, plastic drip tray for the bottom, recipes in manual

Price
Warranty
Best Food Dehydrator For Dried Fruits:
While this dehydrator is considerably higher priced than what's been on this list thus far, it is definitely an excellent option and a solid investment if you're one of those die-hard, bulk dehydrating type people. For those that like to dry a ton of fruits at once for a well-stocked pantry snack shelf, this is the best food dehydrator for dried fruits for pure volume and processing convenience.
Assuming that your bulk dehydrating efforts happen a little more infrequently (and that's intentional), storing a large size dehydrator can be a pain. The problem is definitely solved with this FOLDING dehydrator (yes, you read that right). This is the best-rated food dehydrator, on this list, and it's only the price that knocks it less than first place.
Features:
Size

Open/in-use: 22 x 14 x 11 inches
Closed: 22 x 12.25 x 3.75 inches

Power
Tray Count
Temperature Range

85-160 degrees F; digital control to fine-tune your setting

Extra Features

Digital LCD display with touch controls
Dual heaters; can switch from higher to lower temperatures automatically (with programming)
Programmable time settings (up to 99 hours PER heater; 198 hours total)
Auto shutoff
Filtered air intake (with a washable/reusable filter)
Clear glass doors for easy visibility
Accessories included: nylon zippered storage case, mesh screen, fruit roll screen, recipe book

Price
Warranty

1 year limited if product unregistered; 3-year warranty if the product is registered
Final Thoughts On Best Food Dehydrators
The list of best food dehydrators above is obviously by no means an exhaustive list. It's meant to help you either start or narrow down your search for arguably an excellent appliance to add to any health-conscious kitchen.
You really can't go wrong with any of the options on this list, but if you still have unmet needs you can use these as a comparison point to find the best combination of size, features, and price for your home.
Save this for later on Pinterest!