Some of the links on this site may be affiliate links. This means, at no additional cost to you, I may be paid a small commission if you follow the links and make a purchase. Learn more here.
Full disclosure: In exchange for an honest and unbiased review, I received a credit on my Mixbook account. This credit helped pay for the canvases I ordered. Mixbook has not edited this post in any way, and all ideas and opinions written here are my own.
I wrote this post (a Mixbook canvas review) after ordering three canvas prints from Mixbook. Keep reading to learn about the design process at Mixbook, ordering the canvases, and how to get the best deal on Mixbook canvases.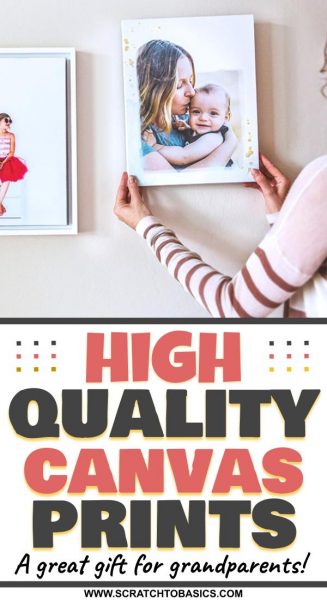 If you're anything like me, you have hundreds (maybe thousands) of pictures of your kids stored away in the digital world, and maybe a few hanging up for display in the hall. Wouldn't it be nice to hang up more of your memories for everyone to see?
It's hard to decide how to display them though. Do you make a photo book? Or maybe one of those collage frames and print a bunch of images to fill it? Then there's the canvas print option. But if you decide to order a canvas print, how do you know which company to use?
There are a bunch of websites out there dedicated to helping you answer those questions. We've used Shutterfly and Snapfish in the past. But it wasn't until recently that we discovered Mixbook.
Designing my Mixbook canvas
The process of designing my canvas was quick and easy. Here's the simple process.
Upload the photo(s) you want on the canvas. You can upload from your computer or directly from Google photos (that's what I did).
Arrange the photos on the canvas how you like them.
Order (and make sure you check their deals and get the best price on your products).
Canvas Layout options
My favorite part about designing a canvas from Mixbook is that they give you complete control over the layout and design.
They have the option to wrap the photo around the sides, or leave the sides white. I typically like the wrap around look, but chose to go with the white edge look.
I made this choice because the images I wanted to use had people too close to the edge of the photo. And when you can't see people's heads it kind of defeats the purpose of ordering a canvas print.
You choose whether to put one photo on your canvas or several. They have a few layouts you can choose from to start (and you can sort based on how many images you want to include).
But with Mixbook you can always resize the images and shift things around until you're 100% satisfied with how it looks.
You also have the option to frame the canvas. The frame comes in white, black, or espresso. Here's a picture of what that could look like.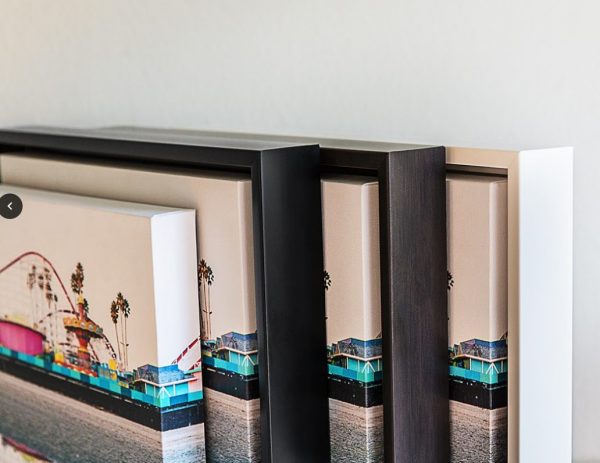 Price for Mixbook canvas Prints
The Mixbook canvases have a pretty high regular price. The 8" x 10" canvas currently has a regular price of $49.99. Keep an eye out for their specials (they almost always have one running). Click here to see their current specials.
Size options for Canvas Prints
The Mixbook canvas prints come in a variety of sizes. Including:
10" x 8" (starting at $49.99)
14" x 11" (starting at $69.99)
20" x 16" (starting at $89.99)
30" x 20" (starting at $129.99)
36" x 24" (starting at $164.99)
Make sure to check their current promos. They regularly have sales on their photo books and canvases. See what they have going on here.
High Quality Canvas Print
The canvases that we received are really high quality. I love how sturdy they feel. As you can see here, on the back of each canvas are two hanging hooks.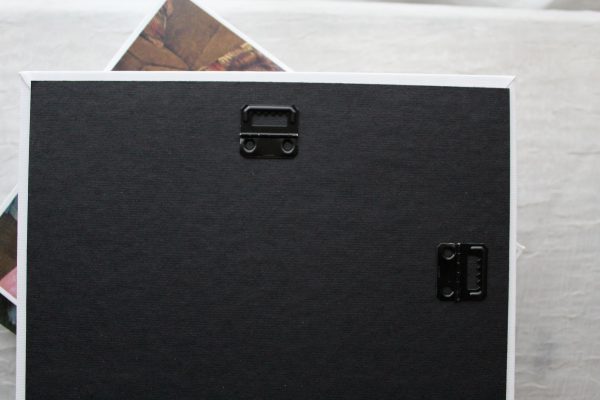 The hooks feel sturdy, and I'm not at all worried they'll fall off the wall any time soon.
other mixbook products
After seeing the great quality of their canvases, I'm excited to try their other products. Next up for me will be a photo book!
Mixbook has quite the variety of photo products. Including:
Custom photo books (as low as $15.99)
Photo cards and invitations (as low as $0.69)
Modern metal prints (as low as $19.99)
Memorable calendars (as low as $24.99)
And more...
Mixbook also has a 100% happiness guarantee. So if you're not completely satisfied with your order you get your money back. I haven't tested this out, but it's nice to know it's an option.
How to get the best deal on Mixbook products
Mixbook regularly offers significant discounts on their products. If you're looking to order a photo book or canvas, sign up for an account and watch your emails. They'll update you with all their specials.
Check out their current deals by clicking here.
Also, if you don't already have the honey app installed on your computer, I highly recommend downloading it today (it's free). I have it installed and it pops up when there are coupon codes that could save you money on what you're about to purchase.
For example, honey found coupons that saved an extra $13 when I had one canvas in the cart. You just click a button and it tests all the different coupon codes out there to get you the best deal. Get honey today and save money on all your online shopping, including Mixbook.
Summary: Mixbook Canvas review
As you're looking into your options for saving those cherished memories, consider buying a canvas print. We've purchased several canvas prints over the years. Some as gifts, and some just for us as a way to display memorable moments.
I smile when I see them on the wall, and I love seeing the faces of the people we gift them to. I thought Mixbook provided a really high quality canvas print. And with all their deals, it's really affordable to hang those canvas memories on the wall.
Gift ideas
Are you looking for the perfect gift? Here are some gift ideas for you.
Save this for later