Some of the links on this site may be affiliate links. This means, at no additional cost to you, I may be paid a small commission if you follow the links and make a purchase. Learn more here.
Let's show our teachers we appreciate them this Christmas. Here's a list of 23 thoughtful Christmas gift ideas for a teacher (or your kid's teacher).
Teachers are vitally important to students. They shape and mold them day in and day out. From making lesson plans and teaching in the classroom, to having conversations with students about their future hopes and dreams. Teachers have a hard and important job in the lives of their students.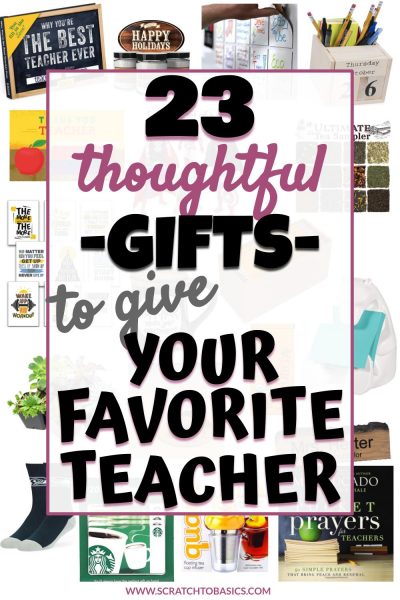 When researching items for this post, I asked my sister and brother in law (both are teachers) about their favorite gifts they've received from their students over the years.
They had quite a few special gifts that came to mind. And the one thing they all had in common was each gift was chosen specifically for them. It was clear that the student (and probably parent) really thought about what they would like.
It was a personal gift. A thoughtful gift. A gift given because of something the student KNEW the teacher was interested in, or even something they had created JUST for them.
A few thoughts to get your brain churning to find that perfect thoughtful teacher gift...
More Gift Guides
I've created more gift guides for this holiday season, complete with Amazon links, just for YOU. Take advantage of your FREE 30 day Prime trial and get your Christmas shopping done early this year!
Related: 7 Hidden Benefits of Amazon Prime Every Mom Should Know About
Thoughtful Christmas Gifts For Teachers That They'll actually use
Alright, here's the list. Click the links to learn more about these items. Let's get those wheels turning in your brain!!!
Time to Choose Christmas Gifts For your Teachers
Phew. Well, we got through the list. What do you think? Which gift will you choose?
Teachers are so important. They motivate, inspire, and care about their students. Whether you're a parent or a student, you've no doubt experienced the impact of an awesome teacher. After clicking around this list, hopefully you have some ideas of what gift you can get to make your teacher feel appreciated and special.
Pin this for later