Some of the links on this site may be affiliate links. This means, at no additional cost to you, I may be paid a small commission if you follow the links and make a purchase. Learn more here.
Looking for a gift for mom? I've got you covered. If your mom loves cooking, or just wants cooking to be a little easier, here are some useful kitchen gifts that your mom will love! These gifts will be a hit whether it's for Mother's Day, her birthday, Christmas, or just out of the blue to say, "love ya, mom!".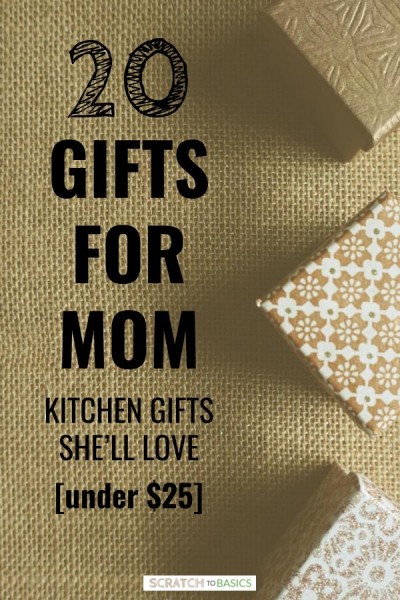 I don't always love kitchen gadgets, but a lot of people do. My mom likes kitchen gadgets, but only if they're useful. Which makes sense. Who wants a drawer full of stuff you'll never use? And who wants to spend a ton of money on a gift that will just sit in a drawer…never being used? Ya, no one.
Here's a list of 20 kitchen gifts that your mom will love (and actually use). And they're all under $25. Click through to see more details and decide if it's a winner.
Under $25 Kitchen Gifts for Mom
Gadgets for mom
Non-Gadget Gifts for mom
Decision Time
Okay, so now that you've got some ideas churning in your head. It's time to make a decision. Click through the links above and find something that fits your mom's style and personality. Then wait in anticipation to see the look on her face when she opens the perfect thing her kitchen was missing!
And, if you've decided it's a good time to splurge on a kitchen gift for mom, check out this list of dream kitchen tools.
Don't forget to Pin this for later!