Some of the links on this site may be affiliate links. This means, at no additional cost to you, I may be paid a small commission if you follow the links and make a purchase. Learn more here.
Cluttered kitchen got you bogged down? Try these nine genius ideas for how to declutter your kitchen counters. Because no one wants their kitchen counter to be the drop spot for mail, your kids toys, unused appliances, and that crinkled up receipt you found at the bottom of your purse.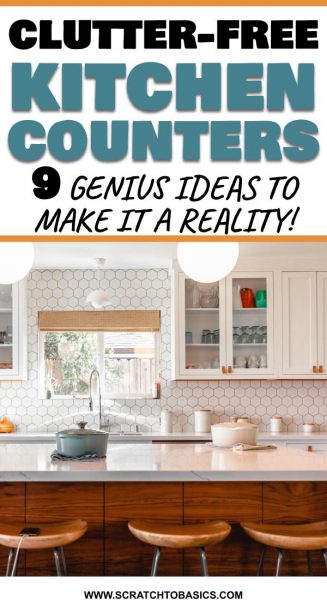 You know how it is....
You finally get up the energy to start cooking dinner, and when you step into the kitchen you're met with dishes strewn about, appliances lining the counter that you don't ACTUALLY use anymore. But the thought of putting them in your already-overflowing-cupboards discourages you from moving them from their resting spot on the counter.
Wouldn't it be nice to walk into your kitchen and have plenty of counter space to work with?
Imagine what cooking would feel like if you knew exactly where each appliance was right when you needed it. And if all the junk didn't always seem to find itself sitting in one giant pile on the counter.
Of course, one way to get more counter space is to remodel your kitchen. And if you're able to do that, more power to ya! But for those of us that are stuck with the kitchen we've got, let's think about some ways to declutter our kitchen counters.
Here are 9 ideas that you can use RIGHT NOW to clear your counters from all kinds of clutter, like:
Ready to declutter those countertops? Here we go!
Oh, and if you're in full-on Sping cleaning mode with your rubber gloves and trash bags at the ready, you've got to check out this course on keeping an organized house. Hilary doesn't teach you how to have a perfect house...because...that's just not gonna happen.
But she provides realistic strategies to manage a home, reduce clutter & clean less. Here's a link to the course so you can see for yourself. It might be just what you need!
Now, back to the kitchen...
1. Organize your produce
You come home from the grocery store, proud of your healthy food choices. You bought plenty of fruits and vegetables, and now you're ready to put them away. That means the produce needs somewhere to go.
But...where does it go? Not all produce should be stored in the fridge (like tomatoes, for example). Some of it will end up on the counter.
In our house, the produce used to go in our "fruit bowl"....which quickly turned into the fruit and potatoes and onion and garlic and _______ bowl.
We just recently got produce containers to hang on the wall and it's been an incredibly helpful solution to the overflowing produce bowl situation.
Find a solution that works for you to clear your counters of produce clutter.
Hang Produce Containers on the wall
We bought these a couple months ago and have really been enjoying the extra counter space. They fit our space the best out of all these produce basket options on Amazon.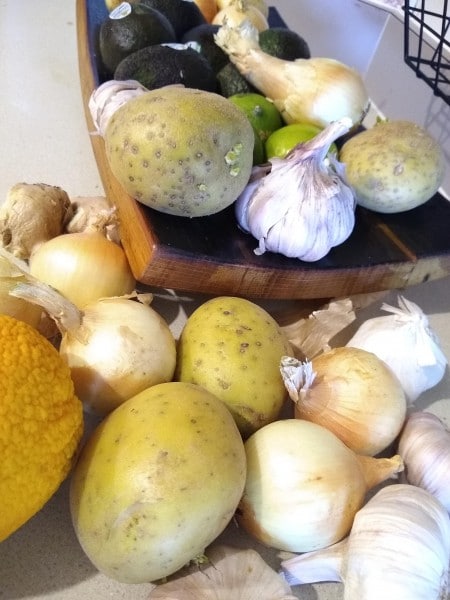 BEFORE: Produce all over the counter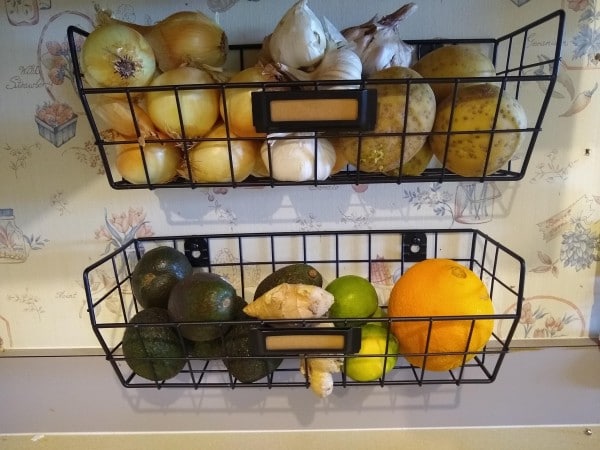 AFTER: Produce in baskets hanging on wall
Stand-alone produce baskets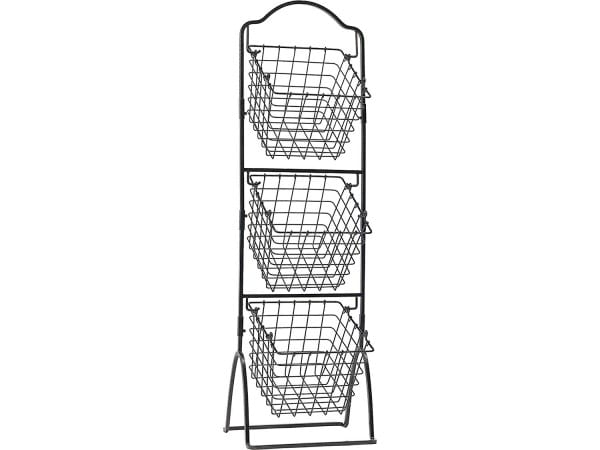 If you don't have wall space, or you just have more floor space in your kitchen, consider getting a produce basket that stands on the floor to move your produce off the counter. With this option, you could even use the bottom basket for snacks for your kids to grab on their own.
Over the door produce baskets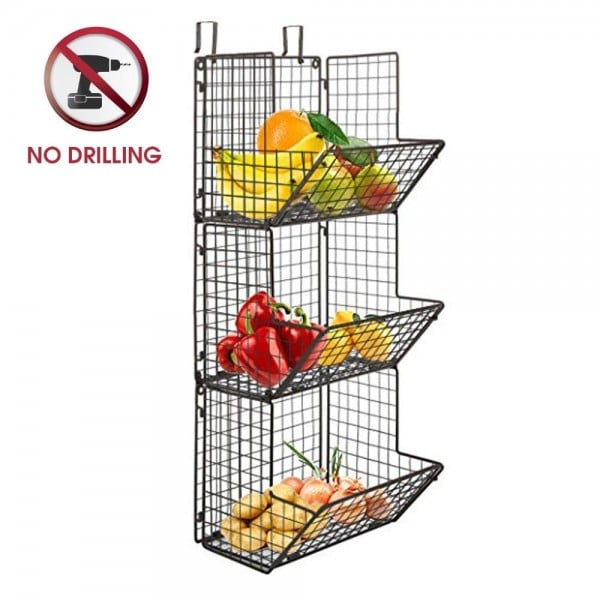 This produce basket hangs over the door (to the pantry, perhaps)? There's no drilling required with this one, and can easily tuck inside a pantry door if you have that space available.
Counter-Top produce Holder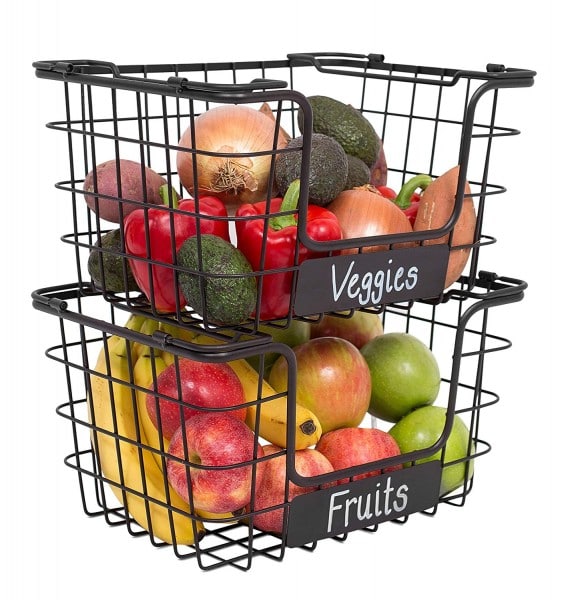 Maybe you want to keep the fruits and vegetables on the counter, you just need a container to hold them in. If so, this countertop produce basket has chalkboard labels so you can make sure everything is going where you want it.
2. Kitchen tools Organization
Raise your hand if you have too many kitchen tools and gadgets...Yeah, me too. Instead of cluttering the counters with your kitchen appliances, consider these ideas for tucking them away or lifting them up off the countertop.
Lift Up Appliances
Use this microwave stand or the under-the-counter mount for the toaster oven to keep these appliances off your counter. With the extra counter space you'll be able to cook much easier and avoid an overcrowded, cluttered kitchen.
Stand Mixer on a hidden shelf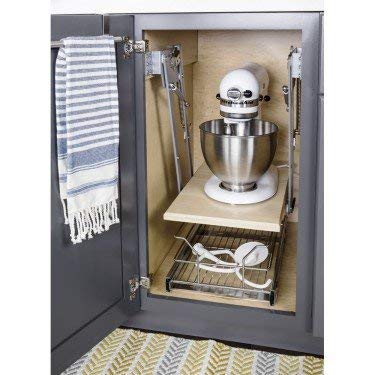 Anybody else have a big stand mixer that takes up a TON of counter top real estate? I LOVE this idea to put a shelf in a cupboard. This shelf swivels up so you can easily use the mixer. Instead of lifting this heavy piece of equipment in and out of the cupboard, use the easy-glide shelf to do the heavy lifting for you. Genius!
UTENSIL Organization Solutions for decluttering the kitchen
Spoons, spatulas, knives, and any other frequently used kitchen items would hang nicely in one of these organizers. The more items you can keep off your counters, the less cluttered it will feel, and the easier it will be to get organized to cook your meal.
3. Declutter counter from dishes
Keep your clean dishes off the counter to dry with this two tier dish rack, or this over the sink stand. Make efficient use of the space you have by lifting everything off the counter. Clutter free counters, here we come!
4. Mail and Miscellaneous counter clutter
Do you have a landing spot right on your kitchen counter for mail, toys, and any other miscellaneous things your kids find on the ground? Yeah, me too. Use these black wire baskets or the key rack and mail holder to organize mail and those miscellaneous items.
Hang then near the kitchen and be intentional to develop a new habit of dropping the mail in the mail slot instead of on the kitchen counter.
Ready to De-Clutter?
So are you ready? Do you feel inspired? Did you make a plan? Are you ready for a whole new kitchen? Okay, maybe not a NEW kitchen. But it'll sure feel like it.
When your counters are cleared of the junk and you have space to work, it will feel like you have your dream kitchen, even it it's not quite as shiny and new.
Related: 10 Kitchen Tools You'll Want In Your Dream Kitchen
Don't forget to save this on Pinterest