Some of the links on this site may be affiliate links. This means, at no additional cost to you, I may be paid a small commission if you follow the links and make a purchase. Learn more here.
If you've already invested in an Instant Pot, chances are you're cooking some super healthy and delicious meals. The appliance burst onto the scene around 10 years ago and now you can find thousands of recipes online for tasty and wholesome treats made quickly and simply in your Instant Pot.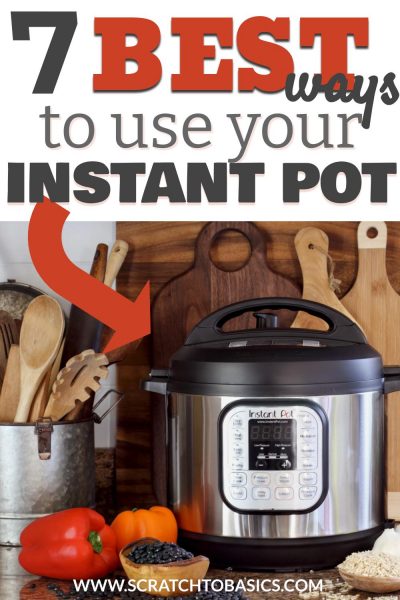 But there's a lot more to the Instant Pot than pressure cooking! There are tons of little tips and tricks you can use to get the most out of your Instant Pot. This post will walk you through a bunch of them! If you're looking for healthy Instant Pot recipes, I've got you covered there too.
Related: The BEST time saving cooking tools that are essential for your kitchen
So, here are 7 Instant Pot hacks that can bring your cooking repertoire to the next level.
1. Trivets
There are a range of racks and trivets you can use in your Instant Pot. In fact, your multicooker will come with trivets included. But what do they do?
Essentially, they're little stands that are made for keeping food off the bottom of your cooker. Different sizes of trivets will be suitable for different recipes, depending on what you're cooking. Sometimes, they won't be necessary at all.
They're also handy for when the time comes to remove food from the cooker (like a piece of meat, for example). Rather than lifting the food directly with your hands, all you need to do is pick up the trivet!
2. Mind your liquids!
You pretty much always need to add water or liquid to your Instant Pot when pressure cooking. The reason for that is the cooker uses the water to heat up and build pressure, thereby cooking the food inside.
A good rule of thumb is to add at least half a cup of water, but always check the recipe as some will call for more liquid. It depends on the consistency of the food you're cooking, how long the cooking will take, and the size of your cooker.
And what happens if you don't put any liquid or water in at all? Either pressure will not build correctly, or you'll see the "Burn" message popping up on your display. Let's just say, it won't make for a satisfactory cooking result! Here's a bunch of your Instant Pot questions answered.
3. Pressure Release Methods
Once you get started and are looking up various easy instant pot recipes, you'll notice that different "pressure release" methods are recommended for cooking different foods and recipes. Here's what they mean and why you really need to use the right one:
Natural Pressure Release
When you start the pressure cooker, you seal the lid so the cooker can build the required pressure. That pressure then needs to be released when the cooking is finished. Natural release means allowing the cooker to do that process in it's own time, but it can take a while. Sometimes, it can be up to 40 minutes to full release naturally, which can impact the texture of certain types of foods.
Quick Pressure Release
When you turn the venting knob from sealed to vent, it pretty much instantly releases the pressure in the cooker and vents all the steam. Caution should always be taken when using Quick Pressure Release (QPR). It's a method that is not suitable for liquid dishes as hot and messy splatter can occur.
4. Make Canned Foods
Canning can be done either with water baths or pressure canning. Pressure canning is used for low acidic foods while the water bath method is suitable for foods that are highly acidic. What it comes down to is effectively killing off potentially harmful bacteria during the canning process.
While water bath canning can be done safely in an Instant Pot, there is some question as to whether the pressure canning feature in newer models is entirely safe, as it does not reach the same pressure level as other pressure canning appliances.
5. You Can Even Make Yogurt
The Instant Pot has revolutionized one recipe for many dairy lovers out there - and that's yogurt! The newer Instant Pot models even have a specific "Yogurt" setting included.
You don't "cook" yogurt - you incubate it. That means carefully maintaining specific temperatures for certain periods of time, allowing healthy types of bacteria to thrive.
And all you need to get started is some natural yogurt (or a yogurt starter) and pasteurized milk!
Using the "Yogurt" function, it can take up to 12 hours to make a batch of Greek Yogurt along with straining the yogurt several times until you get the level of thickness you prefer.
6. Try Out Some Sweet Treats
Have you tried the "Cake" setting on your Instant Pot yet? If you're an avid baker, it may feel a little strange to use a pressure cooker to bake cakes, but it's definitely worth a try. You can even adjust the settings under Cake mode depending on what type of results you're after.
For example, using the "More" setting will result in a very dense cake (think cheesecakes!), while the "Less" mode is preferable for lighter moist sponge cakes.
Even outside of the "Cake" mode, there is no end of healthy sweet treats you can make in the Instant Pot. Just think of your favorite treat and research an Instant Pot recipe to reproduce it.
7. How to clean an Instant Pot
Like all household appliances, proper care and cleaning can help extend the life of your Instant Pot and keep it looking shiny and new.
Most parts of the Instant Pot are completely dishwasher safe, including:
The inner pot
The sealing ring
The steam rack/trivet
The lid
If the cooker itself needs cleaning, only use a slightly damp cloth to remove marks or stains. The inside of the cooker should always be kept dry.
So there you have it, 7 hacks you can try to get the absolute most out of your Instant Pot. Which one will you start with?
SAVE THIS FOR LATER