Some of the links on this site may be affiliate links. This means, at no additional cost to you, I may be paid a small commission if you follow the links and make a purchase. Learn more here.
You know the feeling…the pit in your stomach as you watch the total go up, up, up. Standing at the check out counter with a sense of panic and wondering how you spent so much money. If you can relate, this list is for you. Take control of your spending habits and see how you can easily save money on the groceries you're already buying.
These money saving ideas will help you stick to your budget and allow you to continue eating plenty of highly nutritional food. Unfortunately, the unhealthy processed food is the cheapest way to go if you're only concerned about money. But we care about our health, too. Use this list to find the money saving tips and tricks that will work best for you and your family.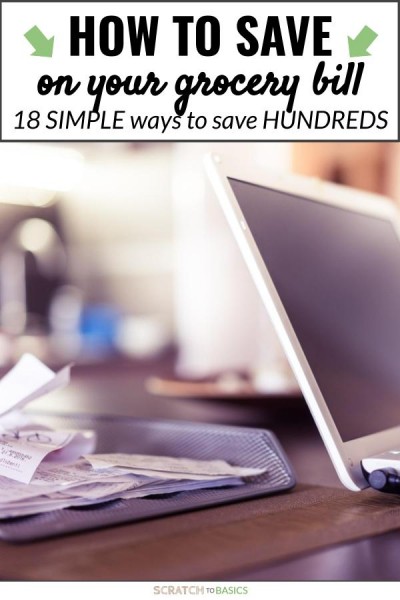 How do I Balance Price and HEalthy Food?
Sometimes it can feel like you have to choose between eating something healthy and getting a good deal. A diet of the cheap noodle packages every day will not provide all the nutrients you need, but it would be really cheap. On the other hand, buying the most expensive "healthy" food isn't always the way to go either. We need to have balance. And this list will help you find ways to eat healthy food for less money.
How Can I Spend Less Money on Groceries?
Use these apps, services, planning tips and tricks to learn how you can spend less money on groceries each month.
Apps & Services to help you save money on groceries
There are so many apps, services, and websites out there dedicated to help you spend less. Here are a few that can save you money on groceries, and other household items as well.
Make a Plan & Stick to It
Just following your a plan can really help you save money on food. Here are some great ideas to help you make a plan and stick to it.
Meal plan & grocery shop with a list. Use the meal planning template in the resource library! Meal planning has been a huge help for my family! It probably saves us $30/month by re-purposing ingredients and making sure we're strategic in the food we buy and make.
Set a realistic grocery budget, and stick to it.
Make a list and stick to it. Don't make impulse purchases. Stay focused! This could save you a lot of money, but if you make just one $5-$10 impulse purchase each trip to the store, that's $20-$40/month. I find that it's easier to stick to my list when I use some of these awesome online shopping options.
Don't shop hungry. This is big for me if I want to stick to my list. If I shop when I'm hungry, I'm so much more likely to grab everything that looks good in the moment instead of focusing on my list.
Use Dave Ramsey's envelope system. This can really help stick to your budget because you literally won't have any money left to spend once you've used it all. Then it's time for you to figure out how badly you really want those berries for dessert. Is it worth taking money from your clothing budget? I can't easily put a dollar amount on this, so I won't. But the envelope system will definitely keep you from straying from your list (see above).
Dig deep in the cupboards and get creative. If it's the end of the month and you don't have money left in the budget, get creative and pull out some of those items you keep pushing to the back of the cupboard. Doing this for just one meal each month could easily save you $20/month.
Use the dirty dozen/clean 15 list to figure out which produce you definitely need to buy Organic and which you don't need to worry as much about. Read more about this list here. The idea is some fruits and vegetables are conventionally sprayed with pesticides a LOT. And some are so hardy that they're barely sprayed. The list will tell you which is in the dirty dozen, and which are the cleanest (the clean fifteen).
Tips & Tricks for saving money on groceries
Here are some tips and tricks that every bargain shopper should know. If you're looking to save money on your groceries, it sometimes is as simple as switching the brand, or buying in bulk. Read these tips and tricks to learn about how you can easily save money.
Coupons – Check your mailbox and see what stores near you are having sales this week. Make your meal plan based on what's on sale and you're strategically saving money! You could get super into coupons and save tons of money, but for average coupon users, you can save $20/month.
Buy frozen/canned instead of fresh vegetables. This could save you $20/month.
Eat seasonally and shop at Farmer's Markets. If you go to the Farmer's Market right around closing time, they likely will be in bargain-mode and more willing to make a deal. This could save you $20/month or more.
Buy food staples in bulk. We buy dried fruit, nuts, rice and more in bulk and save around $15/month (maybe more) compared to the pre-packaged items on the shelf.
Buy your spices in bulk. This is an awesome way to save money and eat flavorful food. I can refill each of my spice jars for about $.50, sometimes $.25 instead of $4.50. If you get two new spice jars per month, that's at least $8/month savings.
Pay attention to the unit price. You'll find the unit price on the price tag of the item in the store. It's usually in the bottom right corner of the tag on the shelf. If one bottle of oil is $.40/ounce and one is $.30/ounce, and they're both the same product, maybe just a different brand. It's a no-brainer which one to get. Often generic brands are cheaper than name brands. Sometimes I'm picky about getting the name brand, but not always. You can save at least $10/month by shopping generic and paying attention to the unit price.
Check the day-old cart. Sometimes you can find avocados that are ready to be used immediately for a steep discount on the discount rack/day-old cart. You could potentially save $10/month or more by shopping the day-old cart.
How much do I spend a month on Groceries?
The average family of four can spend between $712 and $1106 each month on food. Of that, at least $800 is groceries. That's according to this article. Of course, the numbers for your family will be slightly different but this gives you a baseline to see what others are spending.
How do I save money on everyday items?
If you're looking for ways to save money in other areas, too, a quick google search of "money saving ideas" will get you in the right direction. Try not to get overwhelmed by how many ideas you see…like this article on 101 ways to save money around the house.
Conclusion
Use this list of ways to save money on groceries to cut that grocery bill down. Keep track of what you're saving each week and set it aside. Maybe you contribute it to a savings account for emergencies that come up, or maybe you want to save up to do something special with your family. Either way, the next time you're at the grocery store in the check out line, have confidence that you're doing everything you can do provide healthy food for your family for the best possible price.