Some of the links on this site may be affiliate links. This means, at no additional cost to you, I may be paid a small commission if you follow the links and make a purchase. Learn more here.
When you sit down to make a to-do list, do you write pages and pages (and pages), only to be more overwhelmed by how much is on your list?
Where do I even start?
This is pointless, I'm never going to get all this done.
I'm tired just from making my list!
If that sounds familiar, you're in the right place.
Because, while making a "dump list" - dumping everything out on the page - can be a helpful first step, you're likely missing the next steps - which are SO important if you're hoping to stop the overwhelm and actually get something done.
Some people prefer to use technology for their to-do lists (like Trello, Asana, Google Docs, or Cozi) - all free tools.
However, some people (like me) are sticking with pen and paper.
Enter: my to-do list templates. The ultimate solution for to-do list overwhelm.
What is a to do list template?
A to do list template is just a paper where you can make your to-do list with some structure to it. I'll walk you through each of the templates one by one in this post, and if you want the PDF download, I offer them as a free gift to anyone who joins my email list.
Grab them all here!
Related Post: 20 Meal Planning Templates for Stress-Free Weeknight Dinners
9 To do List Templates to make your life easier
Brain Dump To Do List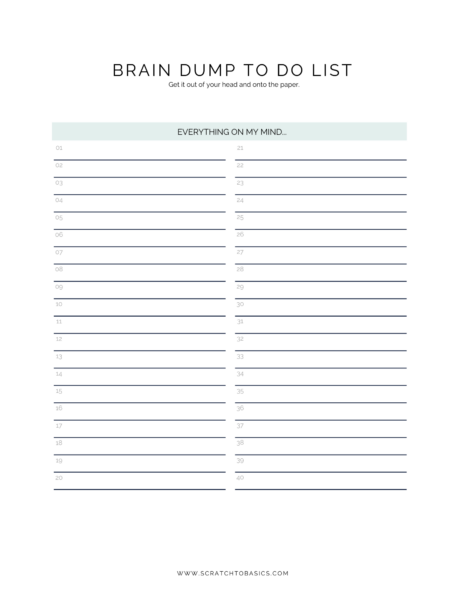 This first to-do list template is the brain dump to do list. This template gives you lines to list ALL the things on your mind. If you've got a lot on your plate, you may want to print a few of these. Or even have one for each category.
What Is A Brain Dump?
A brain dump helps you declutter your mind and thoughts, and helps in organizing your time. We can have so many ideas running in our heads by putting them into a list, we make sure to refer to them later and help clarify our minds as well.
How To Do A Brain Dump? It's easy. Just start writing. The process of writing everything down will help more (and more) come out. Once it's all out on the paper, take a deep breath. Then you can use one of the other templates here to organize it more, or just get started checking things off your list.
Daily Checklist Template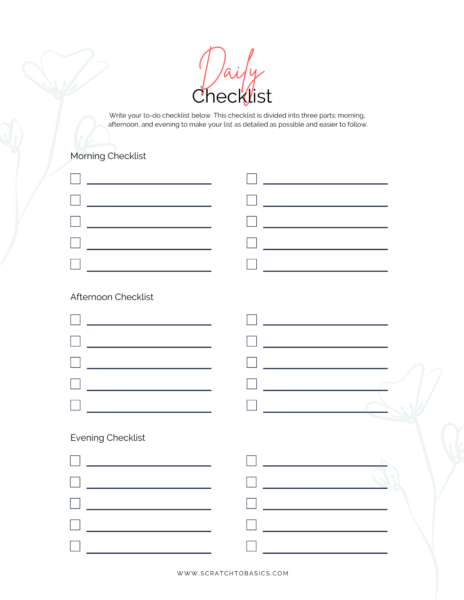 This template is a daily task checklist for all the things that need to be completed in the next 24 hours. By using a daily checklist template, you can organize your day (and week) so that you get more done (and don't forget what you need to do).
This template has three sections to help you organize your day.
Personal Checklist Template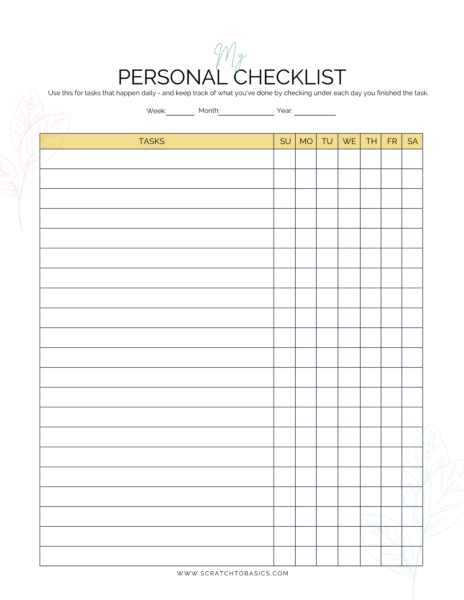 The personal checklist template is best for things you're doing personally, or things you're doing multiple days (like healthy habits). So if you know you want to go on a walk 3 times this week, you can track how often you actually went on a walk.
I love using this one as a personal habit tracker!
Weekly Checklist Template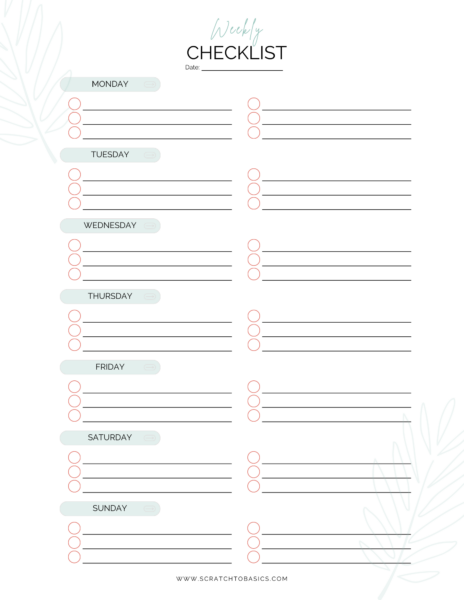 The weekly checklist template is good for events you've got going on through the week, or for a higher level week-at-a-glance type of to-do list. There are six lines each day for you to plan a big picture week to-do list.
Quadrant Checklist Template
I love the quadrant checklist template, because it's so easy to see what needs done now vs what can wait for later (or delete/delegate altogether).
Here's how it works. On the "x" axis (horizontal) you've got urgency. So on the left is "not urgent" and on the right is "urgent".
On the "y" axis (vertical) you've got importance. So the bottom is "not important" and the top is "important".
By using just two variables to categorize your to-do list, we can create four quadrants that will help us ensure we're making the most of our time.
Also, if you're a business owner (or just the head of the household work) this is going to push you to hire out tasks that are in the delegate bucket (or hand off responsibility to someone else in your family).
Because the truth is that you don't have to be the one doing ALL the laundry, and ALL the dishes, and ALL the cleaning. If you've got other people in the house, I suggest getting them on board with the tasks.
Priority To Do List Template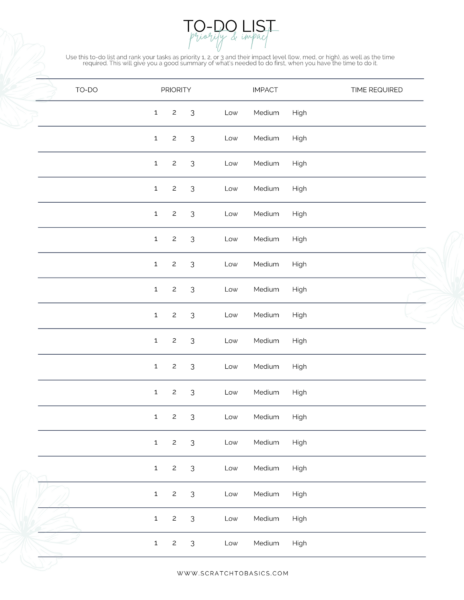 The priority to-do list template is one of my favorite templates because it's NOT just a list with a hundred things on them. Instead, you've got the item, sure, but you've also got a priority ranking, an impact score, and the time required.
So instead of staring at a dump to-do list (where everything looks like it's going to take the same amount of time, and is the same importance/priority)...with this template you can easily look at your list, find the highest priority / greatest impact / with the time you have available and get something done.
This template is so great because if you only have fifteen minutes, you might spend ten staring at your dump to do list wondering what you can get done in just fifteen minutes. And then your time is totally wasted.
Not so with this template.
One Thing To Do List Template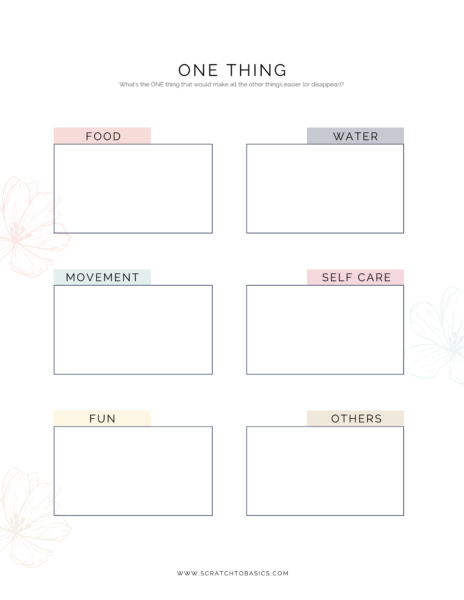 Okay, so the concept of the "one thing template" is simple.
Yes, there are a hundred things you COULD do to help your family, grow your business, or clean the house. But what is the ONE THING that would move the needle in each of those categories?
Chances are there's one thing (it might be the thing you've been avoiding) that when it's done, will help you feel incredibly accomplished AND it'll actually give you some momentum moving forward.
Category To Do List Template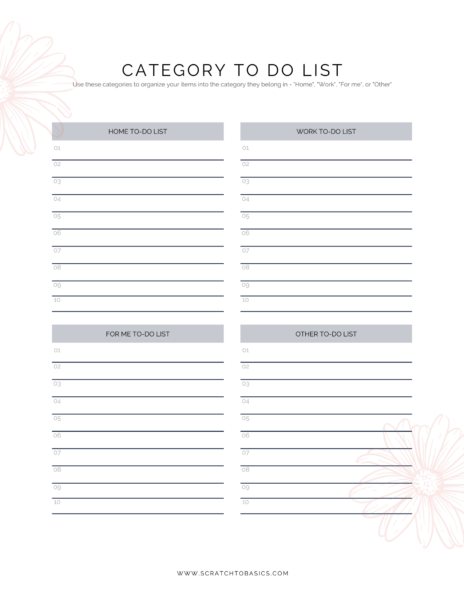 The category to-do list is so helpful for me. I like to keep my to-do lists separate. When I make them on separate pieces of paper, they usually get lost (just bein' honest, folks). So I love that this template is on ONE sheet of paper.
There's room to list your top ten things in four different categories:
Using this template, the "fold the laundry" item won't be in the same bucket as "journal for 15 minutes" or "meet with the business accountant".
Yes, those are all important, but for very different reasons.
Brain Dump & One Thing To Do List Template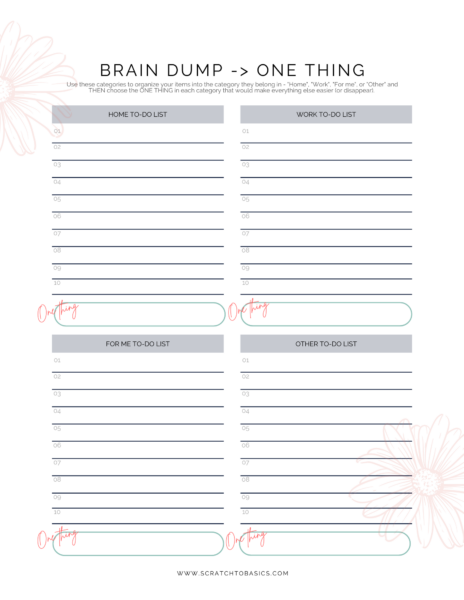 This last template (The Brain Dump & One Thing) is probably my most favorite (I think I used the word "favorite" a lot in this post). But I like this one so much.
It combines the Category To Do List with the One Thing To Do List, and gives you an AMAZING system.
Make the category list (as we discussed in the Category section), and then out of those ten things in each category, choose the ONE thing that will move the needle.
This is a productivity game changer, friends. I hope you use it (and love it) like I do.
Conclusion
Even if you've got a lot on your plate, you don't have to feel overwhelmed when it comes to getting stuff done and organizing your day.
In fact, with these to do list templates you can get crystal clear on the specific things that NEED done first. You'll feel a huge sense of relief knowing you're making progress on the things that matter (not the busy work that's not actually helping you make progress on your goals).
I know sometimes it feels like that "stress" feeling is helping, but I promise it's actually not. You can have an effective time management / productivity system without feeling stressed about it.
If you're interested in learning more about how we can create a no-stress system for you inside my one-on-one coaching programs, reach out to me at my coaching website here.
I'd love to hop on a discovery call with you and walk you through my unique system to address the root cause of stress, burnout, and overwhelm, all while helping you make progress on the goals that matter to YOU.
Save this for later on Pinterest