Some of the links on this site may be affiliate links. This means, at no additional cost to you, I may be paid a small commission if you follow the links and make a purchase. Learn more here.
This post is a little different than what you're used to here on Scratch To Basics. You see, it was about a year ago that I started this blog. And since it's been a FULL year, I'd like to take a moment to pause and reflect on why I started this blog.
As well as think about where it's headed in 2020. Although this post is specific to my blog, I think it's an exercise worthy of repeating in every area of my life I encourage you do reflect on the last year of your own life and do the same. What have you been through in the last year? And where are you headed?
---
In the fall of 2018, I was at a turning point. I had two young kids at home (4 and 2 year old girls).
And I'd been struggling with a few things. Like…
Fatigue (as in…I was ready to go to bed at 4 in the afternoon).
Bloating (looking like you're six months pregnant is fine….when you ARE six months pregnant. Which I wasn't).
And I had a general sense of…how do I describe it….a sense of "ugh". I didn't have any motivation.
I was so tired that when my kids wanted me to read them a story, I hesitated, and often said, "no" because I was scared I would literally pass out on the couch.
A sleeping mommy on the couch with crazy youngin's running around is not gonna happen. Not on my watch!
Movin' to the farm
A few months before, we had moved to a farm (a run-down, overgrown farm) that was in desperate need of repair and mending (we affectionately call our "farm" Mended Meadows Farm for that reason).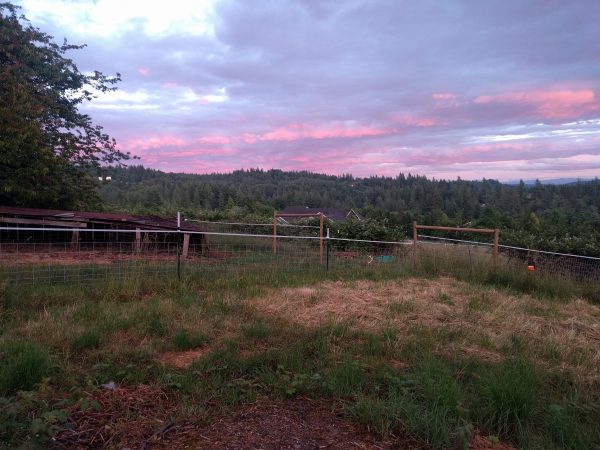 We bought it from a family who had once used it as a hobby farm. We call it a farm, but really that's more of a hope. A dream of what it might someday become.
We've got goats, pigs, chickens, and a big dog who's supposed to be guarding them all (although he mis-read the rules and currently thinks he's supposed to chase them around the field).
With an endless project list, blackberries threatening to overtake our 50 year old apple trees, and the barn that's slowly but surely falling down the hill, you could say things were a bit stressful.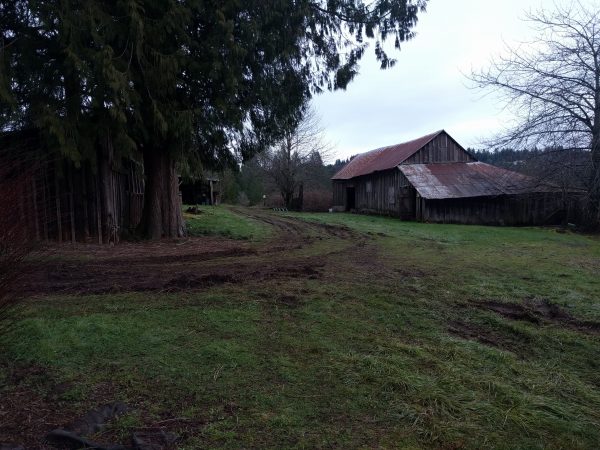 Mommying
I've been a stay at home mom ever since before my first daughter was born. I quit my job when I was seven months pregnant, because I knew I didn't want to work once I had her, and I wanted a couple months to get "settled".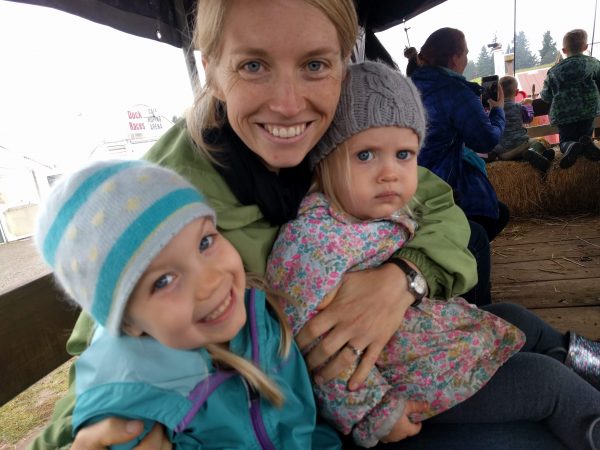 Staying at home with my kids is a gift. And I'm so fortunate to be able to care for them full time.
But to be honest, after a couple years at home with the kids (and the unfinished projects), I started to feel like I needed an outlet. Because at the time, all of my limited energy went to one of these three places:
Watching my kids
Cooking food for our family
Reminding my husband of all the work we he needed to do on the farm.
As you can imagine, it'd be easy for #3 to start causing problems in our marriage. Lucky for me, my husband is the most understanding and patient guy ever.
Time for some changes
So I made some changes in a few different areas. First, to the food I was eating.
Food changes
I went on a strict elimination diet and kept a food journal.
If you've never done an elimination diet, let me just tell you it's a commitment. Honestly though I thought the food journal was harder than the elimination diet. Keeping track of everything I was eating and how I felt afterwards was a challenge.
It didn't happen right away, but after a few months I started feeling better.
The first sign it was working was that my stomach miraculously shrank back to its normal size. After that I started feeling more energized and then my motivation even came back.
This uptick in energy meant I could finally read stories to my book-loving kids, and chase them around the house. One of their favorite games is the "tickle game". You know the one where you chase them, catch them, pick them up and tickle them, and then do it all over again. And again. And again.
Can't you see how the "tickle game" would be exhausting for someone with NO energy?
Lifestyle changes
I also needed something new to think about. If for no other reason than to give my husband a break from the constant nagging of all the things he needed to do around the farm.
Remember that we had just moved to a piece of property that had a LOT of work to do. And all day I'd look out the window and I'd add things to the list of things we should do.
And that's when I started getting serious about some sort of side-job, or project that I could do during nap time. I'd been researching side-hustles for a while, thinking I'd like to contribute in some way to our family's finances.
But I couldn't quite think of anything that felt right. Because I didn't want just another job. I wanted something I could be proud of. Something I could create to help others.
So I asked myself some questions
What do I like to do?
What could I help others do?
What do I feel passionately about?
And the common theme in my answers surrounded around food. Unprocessed. Real food.
Because over the years I've learned a lot about the packaged food in the store. About the preservatives, fillers, and refined salts and sugars. And I've learned that most people don't realize there's anything wrong with it.
You see, I cook a LOT of food from scratch that most people buy. Like tortillas, crackers, desserts, sauces, salad dressings, and so much more. And I think it's really fun.
One of my favorite past times is taking a stroll through the grocery store aisles to find ideas of new things I could make. I purposely DON'T buy them, but I look at the ingredients for inspiration.
Have you seen all the junk that's packed in the boxed and pre-made foods at the store? If not, take a look at the ingredient label next time you're in the store.
I'd rather avoid the refined sugar, salt, and hydrogenated oils, if at all possible. But I still want to eat all those yummy foods like crackers, desserts, and tortillas. I just want to eat them when they're made with real food. I want to make them my way. Nourishing, nutritious, and even better than store bought.
ANd then Scratch to Basics was born
So I started this blog, and I called it Scratch to Basics. Because there are so many things that have gotten SO complicated. If only we could go back to basics a bit (like cooking real food from scratch).

I had read about other bloggers that started their blogs to help others with something they had recently learned, or something they were passionate about. Many of these bloggers were able to generate an income and contribute to their family's finances.
I started Scratch To Basics to help people like you see that cooking delicious healthy food at home doesn't have to be complicated (even if you have food allergies or sensitivities). I also started it with the goal to (hopefully) provide some income eventually.
And after a year of blogging, I'm ever so grateful to be here. To have you reading this.
I've learned SO much, and am confident that will never change.
Where we're headed
I want you to know I think of us as a team. It's not me over here standing on my own talking about whatever I want to talk about. We're a team. We're family. Becoming informed consumers, eating real food, raising healthy kids, and reducing stress in the kitchen. We're doing it together. And I couldn't do it without you.
As I sit and think about what's coming in 2020, I want to let you in the loop on where we're I want to go. Because, remember…we're a team.
Here are my goals for the next year with Scratch To Basics
I'd love to get to know you better and learn more about how I can best serve you. Join the mailing list here to stay up to date on what's going on. Also, feel free to contact me with suggestions of anything you'd like to see more of (or less of).
With my increased understanding of how I can be of the most help, I'd like to make products and offer services to help you stick with real food, and make informed decisions for your family.
I'd also like to share a little more about life here on the farm. I'm planning on a once a month (maybe once a quarter) update from the farm. Raising animals, growing food, and mending the land is full of life lessons. And I want to share them with you!
I'm thrilled with how far we've come in the last year, and I'm really excited for what's in store for 2020. I hope you know, as always, I'm here for you…cheering you on as you take steps towards your health goals.
Let's do this!