Some of the links on this site may be affiliate links. This means, at no additional cost to you, I may be paid a small commission if you follow the links and make a purchase. Learn more here.
---
This bundle is put together by a company called Ultimate Bundles. They strive to put together these AWESOME bundles for you and me each year. This bundle (the 2021 version) is available for a flash sale October 4th - October 5th, 2021.
To learn about other bundles from Ultimate Bundles I've written reviews for, here's my review of the Women's Wellness Bundle and my review of the Master Your Money Super Bundle.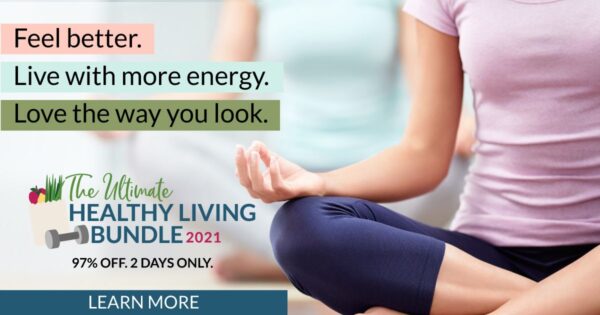 Ultimate Healthy Living Bundle
The 2021 edition of the Ultimate Healthy Living Bundle is HERE!
If you've never bought a copy of the bundle, I am going to tell you exactly why you should make this version your first!
Who is it for?
This bundle is for YOU if you're struggling with:
food intolerances & allergies
finding healthy food your kids (or spouse) will eat
finding natural ways to heal your body
living a more natural, holistic life
figuring out what's going on in your body - why you don't have energy, or why you just feel "off"
Or you've been wanting to:
See if a gluten free or keto diet will help you feel more energetic.
Find a way of eating that feels easy and allows you to eat the food you want and still lose weight.
Figure out the whole "essential oils" thing and how it can help in your family.
Find natural remedies instead of reaching for the medicine cabinet every time you have a headache.
Substitute your toxic cleaners for non-toxic DIY solutions.

What's included in the bundle?
This bundle has:
20 eBooks
18 eCourses, audios and workshops
5 printable packs and workbooks
$306.84 in bonuses
WOAH! That's a lot! Keep reading to learn more.
My favorite items in the bundle
I literally have pages and pages of notes from just glancing through this bundle.
Below, I've broken the bundle down into a few categories. There are more categories in the bundle, but these were the ones I was drawn to the most. Within each category, I've listed my top picks. And believe me...it was hard to narrow it down this far. Because there are 43 items in this bundle.
Forty-three.
Healthy Eating & Nutrition
Here are just a few of the 10 resources in this category. I'm all about healthy eating and believe in finding the resources you need from the experts you trust to guide you on your healthy eating journey. Honestly it was hard to narrow it down to just a few of my favorites in this section!
2 Week Metabolic Eating Plan by Marina Gutner (eBook) $67.00 - How to boost your metabolism by adjusting macronutrients and eating foods that burn more calories than others. You naturally shift to burning calories for energy more efficiently instead of storing it as body fat.
21 Day Green Smoothie Challenge by Tarashaun Hausner (eBook) $29.00
Drink 1 green smoothie per day for 21 days as a meal replacement or snack and you will feel the difference!
8 Week Empowered Eating Course by Michelle Yandle (eCourse) $105.00 - Be your healthiest self without giving up the foods you love.
Macros Simplified by Taylor Kiser (eCourse) $37.97 - Everything you need to know the learn how to track macros and get the body you want.

Special Diets & Allergies
If you've been following me for any amount of time, you know I've been working on healing autoimmune thyroid disease using natural methods - including changing our diet and making sure I'm eating the way my body needs me to. Here are just a few of the 10 resources in this category.
Basic Keto Cookbook Bundle by Dr. David Jockers (eBook) $27.00 - A sneak peek of 127 fat-burning keto recipes that taste great and are easy to make!
New To Gluten Free by Jules Shepard (eBook) $12.95 - An easy-to-read but comprehensive beginner's guide to transitioning to a life without gluten.
The Gluten Free Coach by Coral Barajas (eCourse) $135.00 - Touching on all of the pain points of a gluten free life and providing the tools to help you thrive.
Top 8 Free Baking for Beginners by Kelly Roenicke (eBook) $11.99
Simple, tasty recipes and easy to follow tips for those who are new to baking with food allergies.

Wellness & Self Care
Learn how to take control of your health and practice self care with these products. This is my favorite of all the sections, and I'd recommend starting here - specifically with the Mystery Symptom Master Class - that looks amaaazzziiinngggg.
Hypothyroidism & Adrenal Health by Jill Grunewald (eBook) $17.00 - Hypothyroidism is often secondary to adrenal dysfunction and this guide will help you understand this relationship and establish a foundation of health and vitality.
Mystery Symptom Master Class by Holly Bertone (eCourse) $247.00 - In this course, you will go from feeling like you will never be healthy again to empowering yourself with the knowledge to embark on a healing journey of exploring the root causes of your chronic illness and mystery symptoms.
Heal Your Gut by Lee Holmes (eBook) $18.00 - A gut healing protocol and step-by-step program with recipes to cleanse, restore and nourish
and so much more...
I've only listed a FEW of the categories, and a FEW of the products in those categories. But here's the thing...there are 43 resources in this bundle! Here's a picture of each of them. I've quickly looked through the whole bundle to tell you a little about the ones I think are great, but there's so much more gold nuggets here waiting to be discovered by you.
Click here to learn more about alllll the products in the bundle.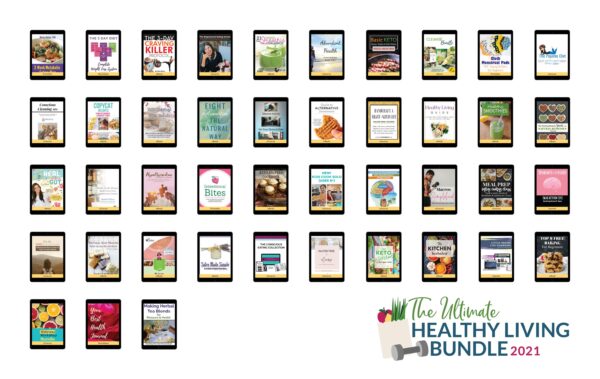 The bonuses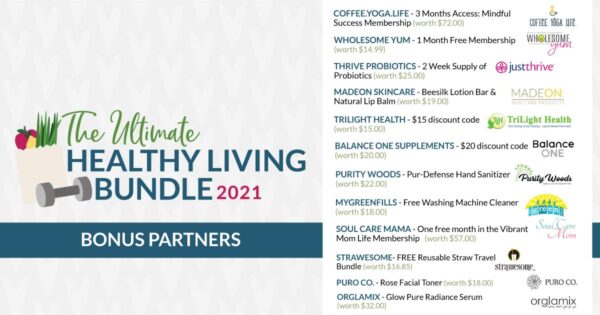 And if the content itself wasn't more than enough, the healthy living bundle comes with awesome bonuses. In addition to the 43 amazing resources in this bundle, you'll also get bonuses worth $306+ which include:
3 Months Access: Mindful Success Membership from Coffee.Yoga.Life worth $72
Full Size Bar of Soap (any scent) from Puro Co. worth $15
One free month in the Vibrant Mom Life Membership worth $57
1 free month of the Easy Keto App by Wholesome Yum worth $14.99
2 Week Supply of Probiotics from Just Thrive Probiotics worth $25
Pur-Defense Hand Sanitizer from Purity Woods worth $22
Beesilk Lotion Bar & Natural Lip Balm from MadeOn Skincare worth $19
$20 discount code from Balance One Supplements worth $20
Free Washing Machine Cleaner from MyGreenFills worth $18
FREE Reusable Straw Travel Bundle from Strawesome worth $16.85
$15 Gift Certificate from Trilight Health worth $15
Here's how all these bonuses work: you can pick and choose whichever offers you want to redeem, as many or as little as you want. For the physical bonuses, you'll be responsible for shipping costs.
The bonuses are worth $306. That's more than 8 times the cost of the bundle!

What if I don't have time to read everything in the bundle?
Yeah, me either! I've been looking through the bundle and plan to use it as a natural health resource for the next several months...at LEAST. There are SO many courses I want to work through and eBooks I want to read more in depth and apply their concepts to my life.
When you buy the bundle, you'll have 6 months to download everything and register for the courses that interest you. Once you do that, you have access to them forever.
Will you have time to read EVERYTHING and implement EVERYTHING in the next week or month? Probably NOT. I plan to use it as a resource and return back to it when a new health issue comes up, or when I'm ready to learn something new about a new aspect of natural living.
What I love most about this bundle is that you get 43 resources you can refer to as you and your family take healthy baby steps towards wellness.
With a library of health resources this big and diverse, it can meet your needs when you run into a new health concern, or as you master one area and are ready to move on to the next.
How much does it cost?
This is the best part. The value of this bundle is $1,918.35. That means if you bought everything at retail value individually, it's over $1900. But when you buy the whole bundle, you get everything for $37. If you want cheat sheets (basically cliffs notes for each product) it's an extra $10.
No, that's not a typo. $37. for SO many healthy living resources. A total no-brainer if you ask me.

Should I buy it?
If you're still on the fence about whether or not you should buy it, let me ask you this...
Imagine how your life would improve if you could learn how to…
have confidence that the food you're eating is giving you exactly what your body needs?
gently ease your body into a balanced hormonal state with lifestyle changes?
heal your gut just by making a few changes to your diet?
start your own herbal apothecary, make salve, or become an herbal tea expert?
Think about it, imagine it, and then go get your bundle and make it happen.