A PERSONALIZED MEAL PLANNING SYSTEM
Even if you think you don't have time to meal plan, or motivation to cook…
A NEW WAY TO MEAL PLAN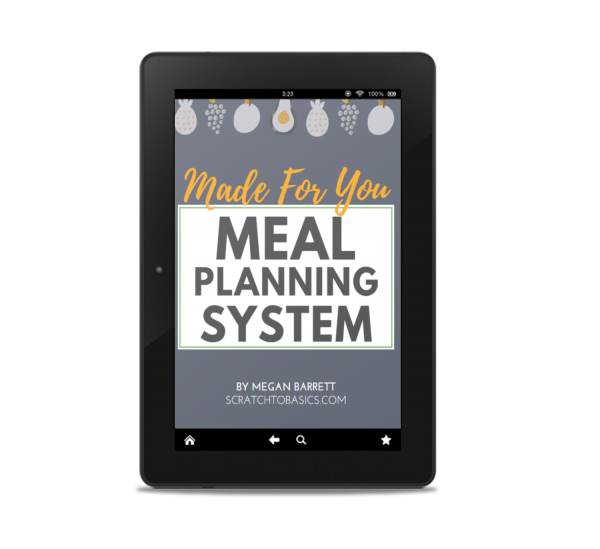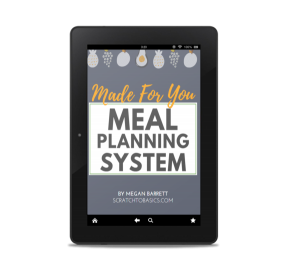 This is the exact system I use every single week to make sure I get healthy & homemade meals on the table, even with two young kids, a husband, farm animals, and this blog. If I can do it, so can you.

say goodbye to anxiety in the kitchen

As you sit down to write out your meal plan (using your meal planning template), you stare blankly at the page. 
"What can I make this week?", you ask yourself, frustrated that out of the thousands of recipes saved to your Pinterest boards, you can't think of a single one your kids would willingly eat..
If you've been in this situation…staring at the meal planning template, unclear about how to come up with enough meals to fill in the boxes…don't get frustrated. 
Because it's not your fault. 
A meal planning template is not the only thing you need to be successful at meal planning. 
YOU NEED A SYSTEM.
A system to help you make the  meal plan each week. 
A system that will make you feel like you've figured it out. Like you've discovered the secret sauce…the holy grail…the super-duper-top-secret insider info that those picture-perfect-meal-planning-instagram stories DON'T tell you.
Wouldn't it be nice if you could…
Sit down for a home cooked meal with your family and enjoy the conversation about the day (NOT about how they wish they got to eat chicken nuggets for dinner again).
Feel confident following your meal plan, knowing each of the meals will be the EXACT kind of recipe you like to follow.
Stay motivated each week to make a meal plan (and stick to it)…so that when Thursday rolls around, you don't have to grab the take-out menus out of your drawer and feel guilty about ordering Chinese food…again.
THIS MEAL PLANNING WORKBOOK WILL GET YOU WHERE YOU WANT TO BE. IT GIVES YOU THE SYSTEM YOU NEED.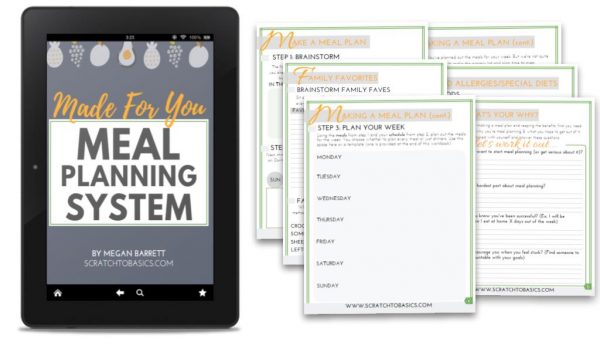 Let's make cooking dinner enjoyable…

AFTER USING THIS WORKBOOK YOU'LL…
Have a simple and straightforward system to help you create a meal plan each week
Know exactly WHY you're meal planning and how that can keep you motivated.
Have a master list of family favorite meals that work in your busy schedule.
Picture this…
It's 5:00, and judging from the tantrum your kids just threw in the car, you know dinner needs to happen. Pronto. Panic starts to fill your mind. "But…but…but…what am I going to make?"
Suddenly, you remember your meal plan…the one you made with YOUR family in mind. And you remember those veggies you chopped earlier in the week. Oh, and there's some grilled chicken too. 
That's right…we're having grilled chicken tacos with roasted veggies.
You breathe a sigh of relief as your heart rate starts to return to a normal pace, and you throw the veggies in the oven. 
"Chicken tacos will be ready in fifteen minutes, kids"…you say with a hint of pride. "YES! I love taco night", you hear them yell from the other room.
That's what this workbook can do for you. It doesn't just teach you how to meal plan. It teaches you how to make a personalized meal plan that works for YOU.