Some of the links on this site may be affiliate links. This means, at no additional cost to you, I may be paid a small commission if you follow the links and make a purchase. Learn more here.
Let's talk meal planning!
Did you know that meal planning can solve most of your food issues? Yep, that's right.
A LOT of the frustration and issues that you have with getting dinner on the table are because you don't have a meal plan going into your week.
And I believe meal planning is the BEST and EASIEST way to get dinner on the table without the stress and overwhelm.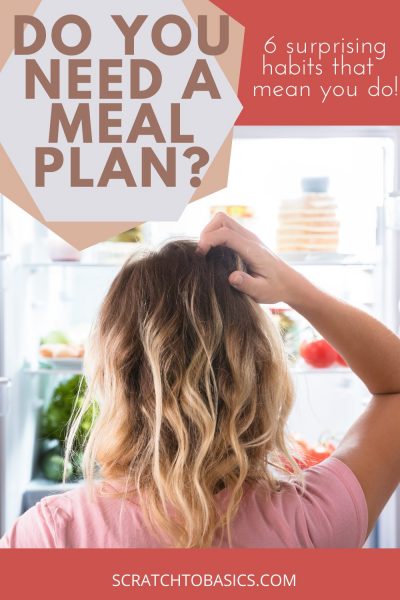 The problem is that it might be hard for you to see how meal planning can solve those problems. And that's what this post is here to do.
Here are SIX sure-fire signs that meal planning is JUST what you need.
1 – Your husband asks "what's for dinner", and you feel frustrated that you don't have an answer.
Can you relate? I know I sure can. When I haven't made a meal plan and then my husband (or kids) start asking what's for dinner, I often panic and get frustrated. Why am I frustrated? Well, because then I have to figure out what's for dinner and now there's PRESSURE to get it done fast.
I've been meal planning long enough to know the difference between how it feels to have a meal plan, and to NOT. I'd much rather be living out of the "have a meal plan" place.
"What's for dinner?" When I meal plan, I answer this question with confidence and a calm voice. No frustration to be found.
2 – When you open the fridge to figure out what's for dinner, you stare blankly at the shelves…with NO ideas coming to you.
Who's ever done this? It's getting close to time to cook dinner, and you mosey on over to the fridge…open the door, take a look at what's inside, and feel…"meh". Uninspired, unmotivated to cook.
We all get into cooking "ruts" sometimes. But the trick is to get out of it as quick as you got in it.
And, believe it or not, getting out of a cooking "rut" is as simple as making a choice to think different thoughts.
Instead of thinking, "there's nothing to eat" or "cooking this food is going to take too long" try and think of a different, more productive thought. I like to use "how" questions to come up with more productive questions.
Here are a few ideas:
"How can I use what I have to make something delicious?"
"How can I make a tasty meal in just 20 minutes?"
"How can I not get into this situation again?"
Any of those questions will give you productive answers and will stop the negative thought spiral before it starts.
Meal planning takes the guesswork out of dinner so you don't have to stare blankly into the fridge to wonder what to cook. You've already thought about it and bought the exact groceries you'll need for each meal this week.
3 – You've been trying to change your eating habits, but haven't been able to stick with the new way of eating.
I'm sure you've been there. You decide to eat "better" this week. You start out okay by sheer will power, but after a day or two, you decide to allow yourself a couple chips or nachos. Then the next day all you can think about is nachos. So you allow yourself a plate. But just ONE plate. And before you know it, you're back to your old ways of eating.
And that's because you can't change a habit, or start a new one, without addressing the underlying beliefs and thoughts that come with it.
You can try with all your might. But our brains want to keep us comfortable, in familiar territory. And when we try to break out of that mold without replacing our old thoughts with new thoughts, it's just not gonna happen, folks.
Meal planning is immensely helpful with this, because when you make a plan, it's SO much easier to get where you're trying to go. Think about driving somewhere new without looking up directions. Sounds a little silly, doesn't it?
Meal planning gives you a roadmap to follow. Now, I'm not saying a new meal planning strategy is going to fix everything and help you eat exactly how you want to. Because I've seen time and time again that beliefs and support are extremely crucial to making lasting habit changes.
But once you identify and shift those beliefs, find support to help you along the way, AND get that strategy in place, you'll be unstoppable.
4 – You've got a lot going on, you're busy, tons to do, and "don't have time to cook".
I get this. So much, guys. There are times when I'm full-on in project mode with projects around the farm, or there's something going on with my business and I just feel this sense of "I don't have time to cook". And it's SO tempting to just order takeout. I get that.
And, again, this is one of those belief things. When you choose to believe cooking takes a long time, it's going to be REALLY hard to stick with it. Especially when you're busy and don't have a lot of time.
So. Here's what you do. You change the belief. Instead of "Cooking takes too long", find a belief that serves you and your goals better.
If this sounds like something you might need help with, we talk a lot about beliefs in my course, Meal Prep Magic. You can learn more about it here.
The way I think about it is…can I really afford to eat takeout that often? I say "afford" here in terms of budget AND health. Because, guys, do you REALLY know what's in that chinese food? Do you REALLY know what's in that pizza crust that was delivered to your doorstep?
Sure it's easy. And convenient. And it even tastes pretty good. But at some point you need to think about "is it really worth it?". It's no secret that a diet of un-processed foods is going to be the healthiest, most nutrient dense diet around.
And that means minimizing your takeout consumption and making time to cook.
With meal planning and meal prep you can develop a system where you don't HAVE to cook for several hours every day. Maybe you decide to cook all your dinners for the week in just a couple hours using freezer meals.
Once you decide it's worth the time to cook dinner at home (even when it feels hard), there's a world of possible solutions to help you stick with it.
5 – When you get "snacky", you go to the kitchen, and instead of reaching for a healthy snack, you grab the crackers or chips…just because it's there.
You know that afternoon snack time that happens every day around 3pm? What if you had something healthy prepared that was a grab-and-go snack, that was JUST as convenient as the chips/crackers/cookies/[insert other processed food here]?
Would you be more likely to eat carrots and cucumbers with a delicious avocado dip if they were already chopped? Waiting for you in the fridge? You betcha.
Meal planning & meal prep can take away the prep work from your day-to-day snacking and make it EASY to grab the healthy choice.
6- More often than you'd like, you opt for takeout (even if your fridge is completely full of groceries from your grocery run earlier this week).
I'm calling you out, sister. Put down the phone to the pizza guy when your fridge is FULL of groceries!
Who's done this? Don't be shy. Admit it. #guilty.
It's not always enough to go to the store and have food on hand, it's essential that you make a plan for what to do with it.
—
So, there you have it. If any of the above sound all-too-familiar, know this:
There's hope. Always.
You can get started meal planning today in minutes!
Grab my free meal planning templates by clicking the button below, and you'll be able to kick these habits to the curb, and replace the burden with freedom and joy in cooking food for your family.

Ready to save hundreds on your grocery budget?
Make a meal plan today!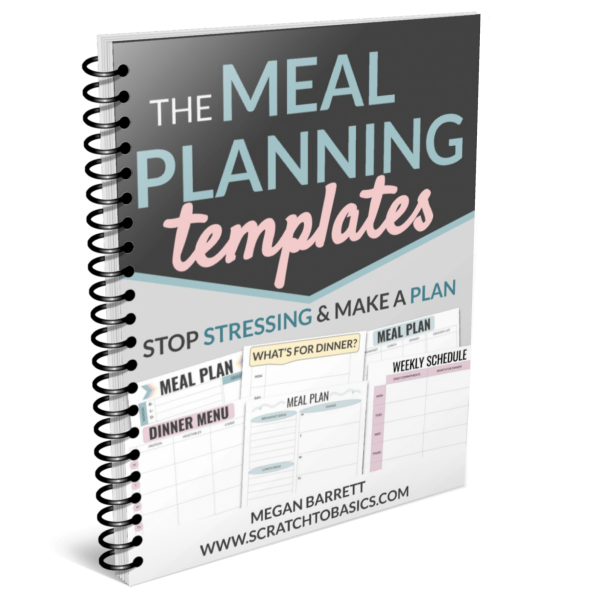 Get started meal planning and save hundreds every month with this bundle of meal planning templates. Opt in below to get this PDF delivered directly to your inbox.
Save this for later!