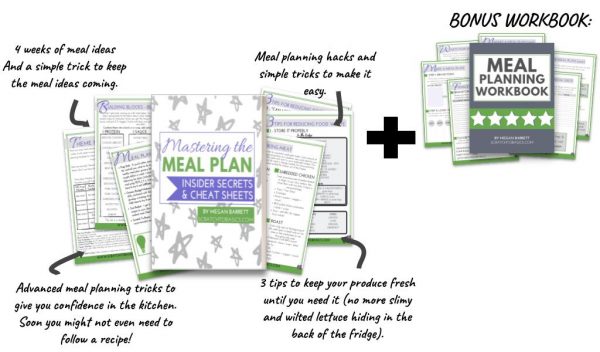 Take the stress out of your kitchen and
make cooking REAL FOOD easier than ever!
Proven methods, tips and tricks to getting dinner on the table night after night.

make your life easier for just $36

can we get real for a second, my ambitious meal planning friend?
IF I TOOK A PEEK IN YOUR KITCHEN RIGHT NOW, WHAT WOULD I SEE?
A white board hanging in the kitchen with your meal plan from three weeks ago on display? You haven't taken the time to update it because…well…life happened.
Or maybe you actually have a fully completed meal plan, a fridge full of groceries, and yet the pizza delivery guy is knockin' on the door with your dinner in tow.
And if I peeked in your fridge would I find slimy lettuce and wilted cilantro in the back of your fridge because it went bad before you got a chance to use it? Or maybe you just forgot it was there?
You've saved dozens of recipes on Pinterest, even printed out some that looked really good. You want to meal plan, but sometimes life just gets in the way. 
I get it. And I'm here to tell you it's not your fault.
IT'S NOT YOUR FAULT THAT MEAL PLANNING HASN'T WORKED FOR YOU IN THE PAST…
Those picture-perfect Instagram stories make it look easy. But don't let them fool you.
It's not just the uber-organized, my-kids-eat-kale-and-brussels-sprouts-with-a-smile moms who can be successful at meal planning for the long haul.
Meal planning can work for us scatterbrained moms with the pickiest kids on the block, too. 
We just need the right tools,
INTRODUCING…THE MEAL PLANNER'S CHEAT SHEETS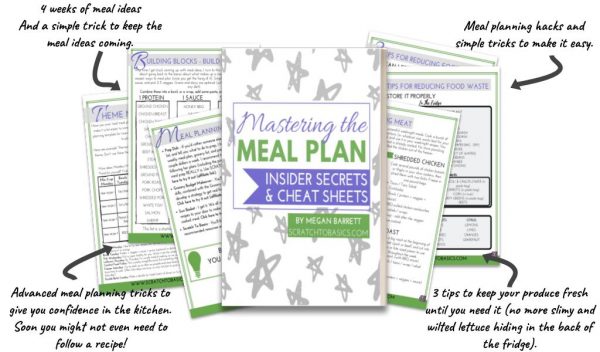 AND A *BONUS* WORKBOOK…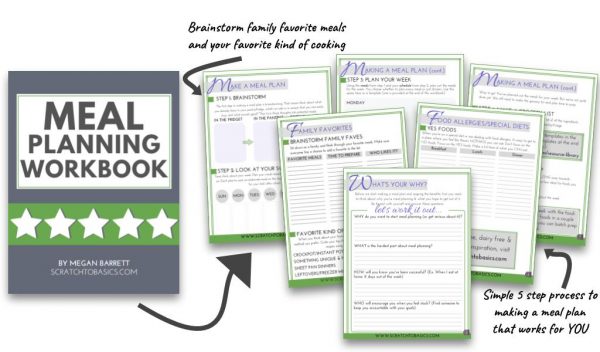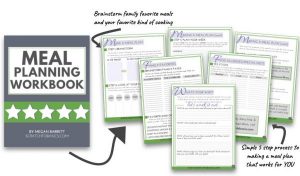 Get all the Tools to make meal planning something you actually stick with…
WHAT you'll get…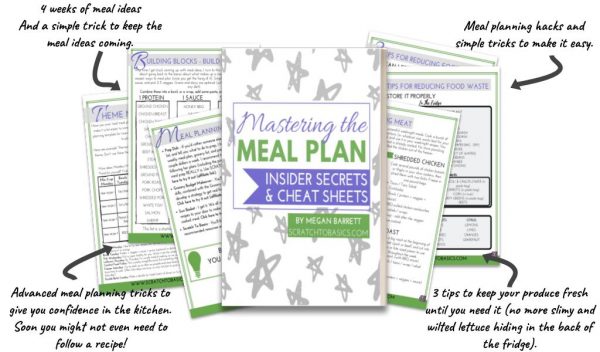 4 weeks of meal ideas (with a simple trick to keep them coming).
The best kept secret to super fast weeknight meals & how to implement it.
Tips, tricks and hacks to make meal planning happen on the regular.
3 tips to stop throwing away the produce you paid good money for.
Oh, and don't forget the bonus…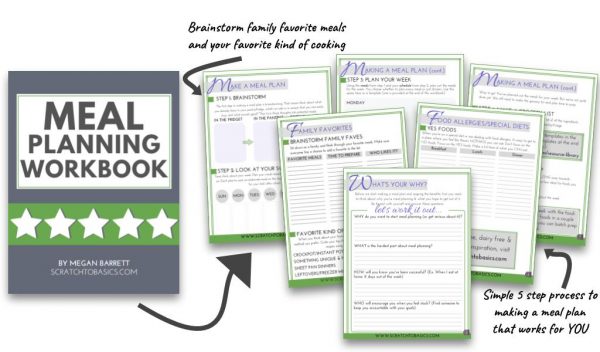 As a bonus, you'll get this Meal Planning Workbook to help you find a meal planning system you can actually stick with. 
We're gonna make meal planning happen for YOU. Week after week.

I want to make stress free weeknight meals a reality!

Imagine what it will be like when you find a way to meal plan that actually works for you. 
When meal planning no longer feels like pulling teeth, and you can embrace your own unique style instead of blindly doing what everyone else tells you to do.
Grab these today and make it happen. You won't regret it! 

I want to rock meal planning
(Click here to buy now)

FAQ
Most frequent questions and answers
If you're not completely satisfied with your purchase, email me within seven (7) days and I will gladly issue you a full refund. 
Since this is a fully downloadable product, be prepared to answer a few questions about what you weren't satisfied with.
After I receive your responses, I'll issue you a refund within three (3) business days.
What if we have food allergies?
Are you dealing with food allergies/special diets? Me too! We eat a Paleo-ish diet, avoid gluten, and steer clear of most dairy. 
This toolkit will help you regardless of the diet you follow. 
In fact, it might even help you MORE if you have a special diet you follow. Because sometimes when you're avoiding cheese all you can think of to eat is…well…cheese.
Use the pages of the toolkit to get those recipe ideas flowing.
What's the best way to use this toolkit?
This is totally up to you. Each page of the toolkit has a different tip, trick, or kitchen hack. At the end of the PDF you'll find a single page with a summary of EVERY tip/trick/hack covered earlier in the book. 
One way to use it is to read through the details of each page, then print out the last page and hang it on your fridge for easy reference. 
After completing your purchase, your toolkit AND bonus will be emailed you via SendOwl. 
If for some reason you don't get your products, email me at megan@scratchtobasics.com and we'll get it sorted out.
a little bit
about me
I'm a wife to a loving husband, a mom to two sweet little girls, and a wannabe farmer/gardener. I love cooking (and eating) delicious food….especially if there's chocolate involved.
When I'm not cooking you can find me outside on our mini farm or chasing my giggling girls around the house. I'm on a mission to make home cooked meals a stress-free reality every night of the week.