Some of the links on this site may be affiliate links. This means, at no additional cost to you, I may be paid a small commission if you follow the links and make a purchase. Learn more here.
I often hear how it's hard to get kids to eat healthy meals, especially vegetables. It's a real struggle, especially when there's young kids involved.
If your kids are like mine, they are a little moody and sometimes unpredictable. Some days the idea of trying something new leads to an all out meltdown. And other days, surprisingly, they're willing and eager to do it.
How to Make kid friendly meals (that are actually healthy)
It seems my kids would be happier if I never asked them to eat their vegetables. But I'm not giving up. And you shouldn't either.
Vegetables are so nutritious, and I'm going to keep fighting this battle. Slowly, we're figuring out healthy recipes that our kids like.
They like beets when they're in chip form. They like shredded carrots, sweet potato fries, and honey mustard brussels sprouts (some days). I can also put dark leafy greens in a smoothie and they can't taste them at all.
I want to encourage you to keep working to find ways your kids will eat their veggies. Your kids might like different things than my kids. You know them best. Keep at it, and they'll figure out what's good soon.
One tip: if they see YOU eating veggies and enjoying them, they're WAY more likely to do the same.
Related Post: How My Kids Eat 30+ Fruits & Veggies Daily (And LOVE It)
Hopefully the lists below will help you find meals that your whole family will enjoy.
Happy cooking!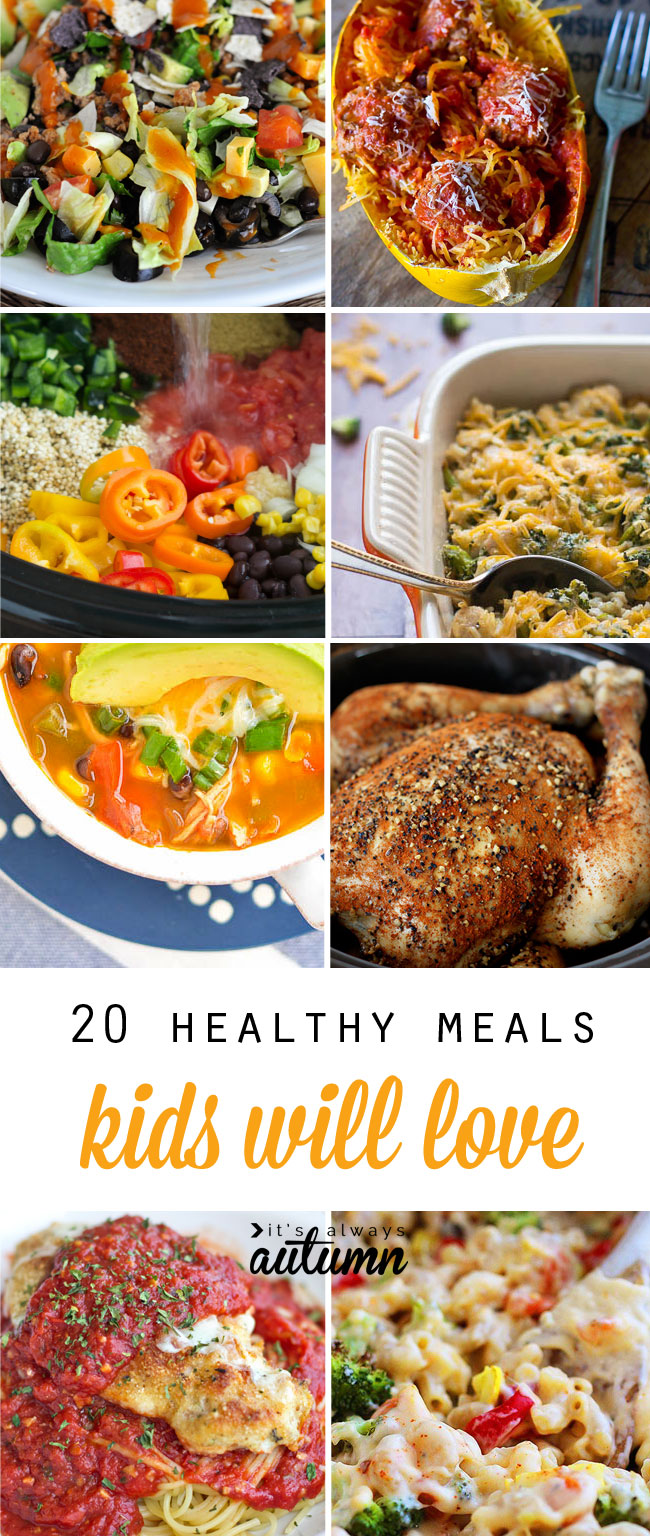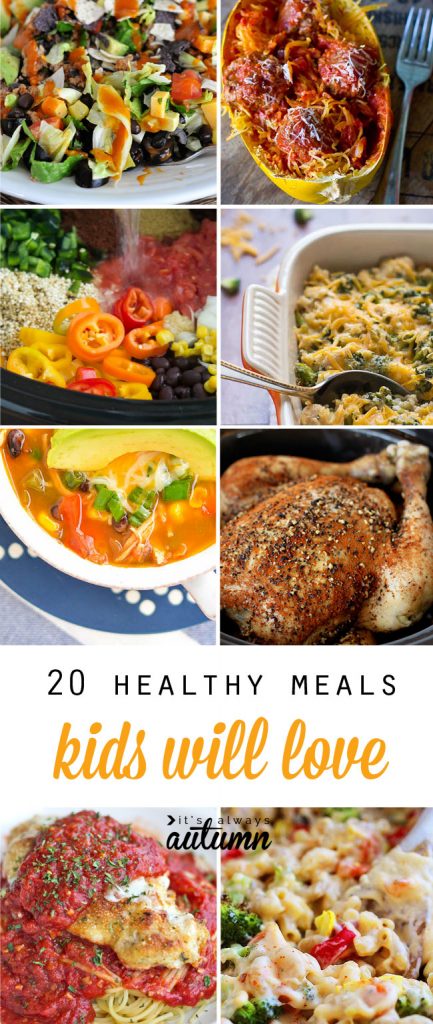 Santa Monica street tacos
cauliflower fried rice
cheesy chicken & rice casserole
spaghetti and meatballs
Thai chicken salad
slow cooker quinoa tex mex meal
tomato basil chicken stew
low carb loaded chowder
chicken tortilla soup
rotisserie style chicken in the slow cooker
light chicken parmesan
guiltless alfredo sauce
teriyaki chicken stir fry
taco salad
skinny lasagna rolls
vegetable lasagna soup
veggie mac and cheese
loaded baked sweet potatoes
easy chicken and stuffing bake
frittatas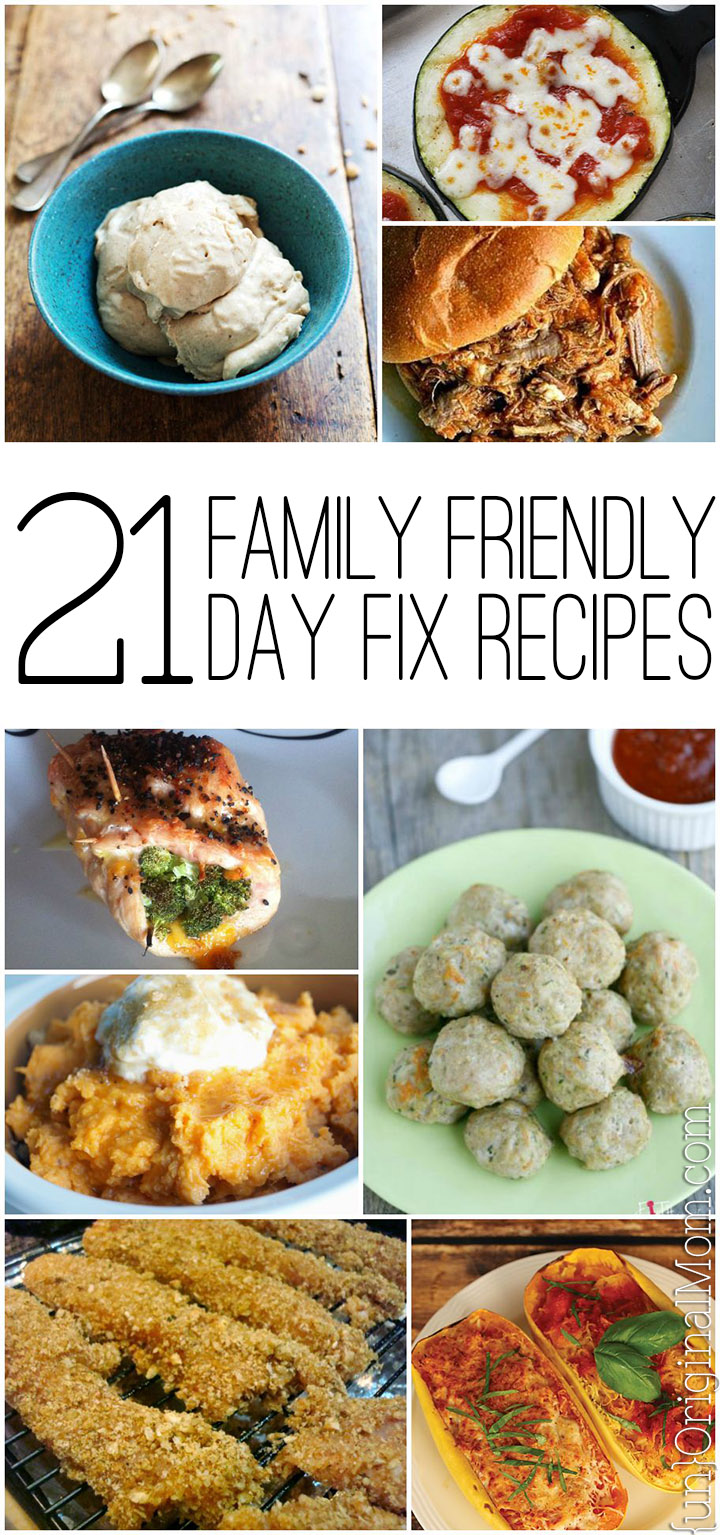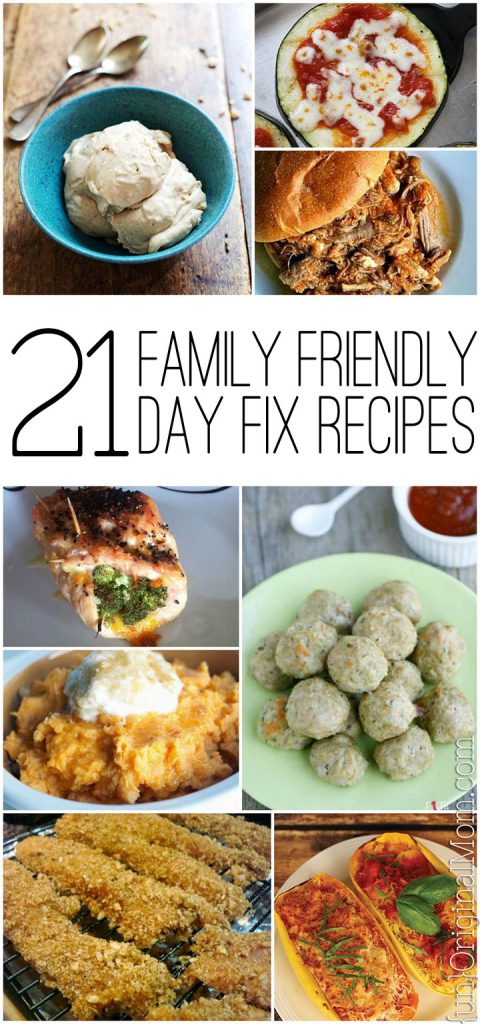 Roasted chicken sausage, sweet potato, and apples
zucchini lasagna
fish tacos with avocado mango salsa
mozarella boats
mexican lasagna
pork carnitas
pecan crusted chicken strips
slow cooker honey mustard chicken sandwiches
zucchini pizza bites
spinach and colby jack stuffed chicken roll ups
smashed sweet potatoes
meatloaf mexi-muffins
slow cooker pulled pork
cheesy chicken broccoli quinoa casserole
chili cheese fries
chicken stir-fry with chinese broccoli
broccoli cheddar chicken
chicken pesto meatballs
turkey taco zucchini boats
grilled fruit quesadilla
peanut butter banana ice cream


Bean-Free Turkey Chili
Healthy crockpot enchilada casserole
fiesta lime chicken
taco sloppy joes
super mom stir fry
parmesan crusted chicken tenders with buttermilk ranch dressing
salsa verde chicken & rice skillet
healthier crockpot sloppy joes
sesame noodle salad
grilled cilantro lime chicken skewers
the juciest turkey burgers
garlic chicken & kale spaghetti
cheesy enchilada stuffed zucchini
bruschetta chicken
crockpot teriyaki chicken over quinoa pilaf
southwest sausage and quinoa lettuce wraps
easy 20-minute garlic and herb cod
turkey salisbury steak
hummus and veggie wraps
roasted veggie and quinoa salad
turkey meatloaf florentine
15-minute creamy balsamic chicken
chicken meatball and barley soup
sausage and peppers stuffed zucchini
asian bbq chicken turkey meatballs with zucchini fried rice
sheet pan chicken fajitas
black bean and quinoa enchilada bake
grilled asian sweet and spicy chicken skewers
turkey chili potatoes
paleo fish nuggets with homemade tartar sauce
salsa chicken and bean tostadas
Conclusion
If your kids are anything like my kids, they'll go through stages.
One week they love carrots, the next they don't.
One week they devour the shredded chicken out of the crockpot, the next they're only eating ground beef - no chicken.
I encourage you to roll with the punches.
Praise their efforts in trying the new foods, and continue offering a variety for them to eat.
In no time, you'll have your own customized collection of kid friendly meals that YOUR kids love.