Some of the links on this site may be affiliate links. This means, at no additional cost to you, I may be paid a small commission if you follow the links and make a purchase. Learn more here.
When I first started taking my skin care routine seriously (aka when I realized I didn't actually have a skin care routine) I was hesitant to spend the money on skin care products. I wasn't sure it was actually worth it to invest in products like the ones at Beautycounter.
Initially I'd search the shelves at the store, looking for a few key words for ingredients that are missing, like:
parabens
phtalates
fragrances
But I never really knew much about the other ingredients that could be harmful. While looking for key words that were not on the label, I'd also look for certain descriptive words on the label like:
...words I thought meant "safe".
But the process of reading labels every single time was exhausting, and it felt like I was starting from scratch every time I needed to buy another item. I also didn't have time to google every single ingredient on the label at the store to be sure it really was something I wanted to put on my body.
The truth is, we vote with our dollars. And when you buy personal care products, food items, or anything else, you're casting a vote that you want that product to continue to be produced, and you want the company to succeed at what they're doing.
Why I started using Beautycounter
In 2019 I was diagnosed with Hashimoto's (an autoimmune thyroid disease). Basically what that means is for some reason my body is attacking my thyroid...thinking it's a foreign invader.
When I first got that diagnosis, I was committed to doing everything possible to remove toxins and anything causing problems in my body, to *hopefully* let it heal itself. I worked with a functional nutritionist and did all the things...
I went through several elimination diets to identify problematic foods
I amped up my supplements
We got one of these beautiful (and high quality) Berkey water filters
We started using an air filter in our home
After testing our home for mold exposure, we got rid of a couch that apparently was very moldy (ick).
...and I started using Beautycounter products (learn what Beautycounter products I use here).
If I was spending so much time and money getting the rest of my body healthy, why wasn't I willing to invest in skincare that will protect my skin from environmental toxins and keep it healthy and beautiful for years to come?
So that's why I started to invest in my skin, just like I was investing in all the other areas of my health.
Is Beautycounter worth it?
A common question I ask myself (and get asked) is, "Is Beautycounter worth it?". And as someone who's new(er) to taking care of my skin, but passionate about personal finance and budgeting, I have a lot to share with you.
You: Is Beautycounter worth it?
Me: That depends.
You: On...?
Me: Are you ready to invest in your skincare and ensure you're only putting nourishing ingredients on it? AND at the same time, support a company who's looking out for the good of everyone by lobbying for safer skincare for all?
You: Yeah! Sounds amazing.
Me: Then yes. Beautycounter is worth it!
Basically, if your health and skin is a priority for you, then yes. It's totally worth it to invest in Beautycounter products.
If you're having trouble making room in your budget, take my free budgeting masterclass to learn how to adjust your budget to be based on your priorities.
This post will walk you through what makes Beautycounter products different, as well as five ways to get the most for your money when you're ready to take the plunge.
Let's dig in!
What Makes Beautycounter Products Different
First, I want to share a few things that make Beautycounter products different than the lower priced stuff you find on the store shelves.
Transparency
One of the things I love about Beautycounter is their transparency with their ingredients. They share all their ingredients on their website (including any and all fragrances).
You may or may now know that there's a fragrance loophole that allows companies to include hundreds of ingredients under the umbrella of "fragrance". There is often a bunch of icky stuff in this "fragrance" bucket, and I'm so thankful that Beautycounter spells out ALL the ingredients for each of their products.
All too often we hear of beauty products being recalled because of cancerous ingredients found inside, or ingredients previously identified as "safe" are no longer considered to be safe.
Leading the Clean Beauty Industry
Beautycounter is working to change the beauty industry to be better regulated so we are protected from harmful ingredients found in so many skin care products. They've been lobbying for better laws for years, and are so dedicated to this cause.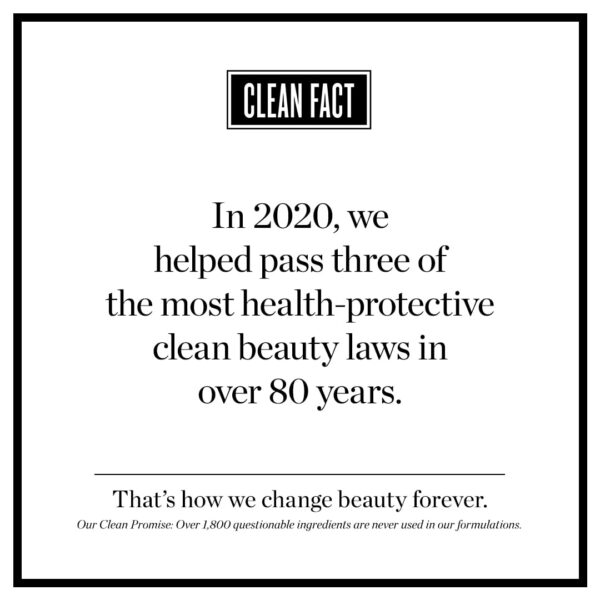 I'm so impressed with their commitment and am proud to be part of this movement.
High quality skincare products
I've never enjoyed taking care of my skin until I tried the products at Beautycounter. Every other product I've purchased off the shelf at the store left my skin feeling sticky or oily afterwards. But that's not the case with what I've tried. I'm hooked on these products that make my skin feel hydrated, moist, and look awesome.
How to Save Money on Beautycounter Products
Once you're on board with Beautycounter and are interested in investing in safer skincare, you may be interested in finding ways to save a little bit of money to try it out.
1 - Use the New Client Coupon Code
If you're a new client (or if you have an email address that hasn't been used before), you can get 20% off with my new client coupon code. Fill out the form here to get the code!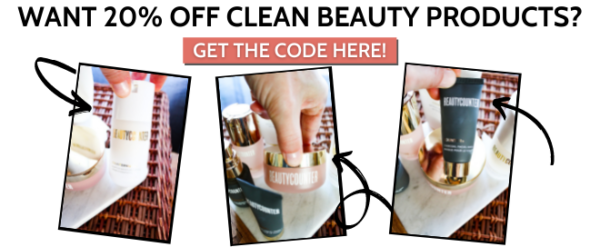 I love this offer because it's the biggest discount I've ever seen with them (other than the consultant discount - we'll talk about that in a minute).
This discount code works on most products (although not on regimens, the Band of Beauty membership fee, or a few other items).
2 - Wait for a sale or promo
Beautycounter typically has an site-wide sales twice each year. They have an annual spring sale and a Black Friday sale where you can get a discount on everything on their site. This is a great time to stock up on your favorites, or try some of them out for the first time.
Other promos and discounts that they've offered in the past are discounts on items when they update the packaging, mystery bags (where you get a steep discount but don't get to choose the items in the bag), and free shipping.
If you're patient, you can wait to make your purchase during one of these sales. If I were you though, I'd make your first purchase using the 20% off code, then stock up during a site-wide sale.
Sign up for my Beautycounter email list here to be notified of their sales and promos when they happen.
3 - Become a Band of Beauty Member
The third way to save money is to join the Band of Beauty rewards program at Beautycounter.
Here are the benefits you get as a member:
Free shipping on orders over $100
10% Product credit to be used within 3 months of purchase
Free gift with purchase (Charcoal Mask & Overnight Resurfacing Peel)
Special offers while you're a member
Joining Band of Beauty with Beautycounter costs $29 for a year, and it does not auto-renew. It's kind of like Beautycounter's version of Amazon Prime - a great program for loyal customers.
4 - Host a pop-up
When you host a pop-up (also known as an in-person or virtual party), you get the chance to share the Beautycounter products you love with your friends and family.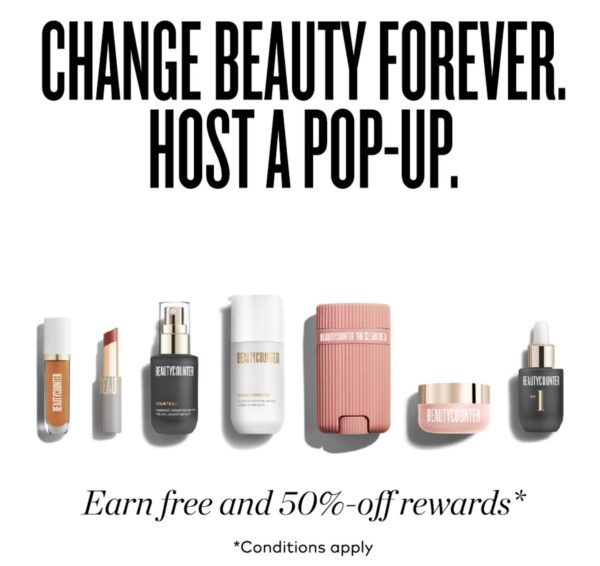 You can do a pop-up via Facebook, Zoom, or in person.
Here's how it works:
Pick the time & place for your popup with your consultant
You invite your friends and family that you want to introduce to Beautycounter
Your consultant shares information about Beautycounter and shows off products
Your friends and family excitedly make purchases
You get rewards based on the number of sales you make (free & 50% off products)
I'd absolutely LOVE to do a pop-up with you. Email me at [email protected] to let me know you're interested in a pop-up, and we can get started with the planning process.
5 - Sign up for the *NEW* auto-replenishment program
Brand new in 2021, Beautycounter is offering a discount when you sign up for the auto-replenishment program (only available in the US).
Here's how it works:
Find your favorite products and select "Subscribe, Save 5%"
Choose your frequency from the dropdown
Add the product to the cart and see the savings show up!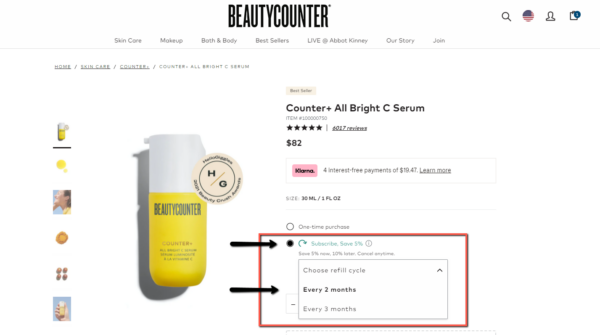 You'll save 5% on your first purchase, and 10% on your subsequent auto-replenishment orders. You never have to worry about running out of your favorite products (and you get to save a little money at the same time). There's no minimum purchase required to participate in the program.
Unfortunately, not all products are eligible for auto-replenishment right now, but if it is you'll see this "Subscribe, Save 5%" option on the product page.
You'll get an email about your auto-replenishment 10 days before it's shipped. And if you decide you don't actually need your shipment at that time, you can easily cancel up to 24 hours before your order renews.
6 - Become a consultant
The sixth way to get a great deal on Beautycounter products is for the Beautycounter superfans. If you want to spread the love of safer skincare OR you just want to take advantage of the 25% consultant discount for yourself, you can sign up to be a consultant yourself.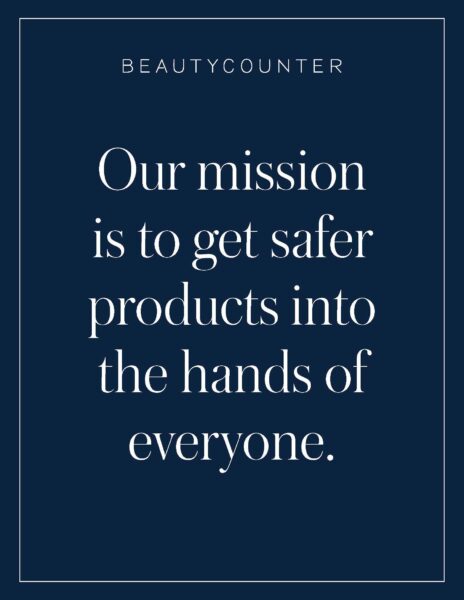 There ARE minimum sales requirements to maintain your consultant status, but if you don't meet them you'll just be downgraded to a Band of Beauty member. There's no requirement that you purchase a certain amount, or grow your team, or anything like that.
Personally, I think it's a great business opportunity because it can as big or small as you want it to be. And the startup costs are very minimal.
Interested in becoming a consultant? Email me at [email protected] to chat about it. You can also message me over on Instagram to talk more about it!
Conclusion - Is Beautycounter worth it?
Beautycounter is a clean beauty company that offers amazing products to clean up your skincare routine. I believe it's worth the investment to care for your skin with safer skincare. And if you're looking for ways to get the best bang for your buck, you've got plenty of options (as you now know).
So, is Beautycounter worth it? You decide for yourself. Oh, and follow me over on IG to stay up to date on all things Beautycounter.
To get personalized skincare recommendations, fill out this skincare questionnaire and I'll send over my top recommended products based on your skincare and budget.
Oh, and here's a little more about why I started as a Beautycounter consultant (and what clean beauty products I'm currently using).
Save this for later on Pinterest