Some of the links on this site may be affiliate links. This means, at no additional cost to you, I may be paid a small commission if you follow the links and make a purchase. Learn more here.
Ready to make some homemade dehydrated vegetable chips in your own oven? While making your own chips may seem intimidating at first, once you learn the basics, you'll be off to the races.
I've seen a lot of veggie chips on the store shelves lately.
Sweet potato chips, beet chips, and so many more options claiming to be made from veggies.
So, of course, being me, I took a look at the ingredient label, did a little experimenting, and figured out the easiest way to make them for myself...in my own home...with the ingredients I WANTED to use.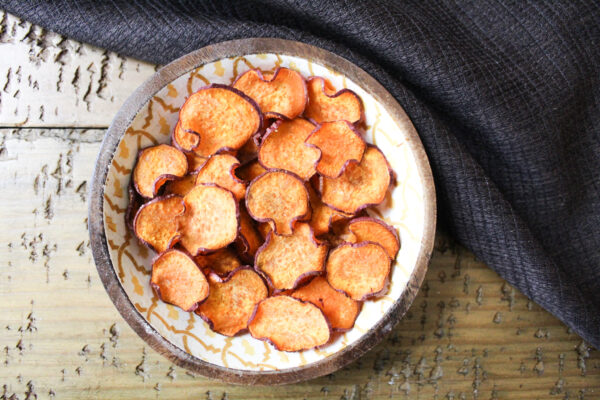 Why Make Your Own Homemade Oven Chips?
Okay, so you might be asking...Why would I make something myself if I can just buy it in the store? Good question.
Cost - A bag of veggie chips is marked up substantially. Considering it takes one sweet potato or beet to make a few sheets of chips, they're much less expensive when you make them at home.
Ingredients - The store-bought chips are made using refined oils (like vegetable oil, sunflower oil, safflower oil, etc.). We like to use more natural oils in our house, so making chips at home makes a lot of sense for us.
New flavors - If you're relying on the flavors available at the store, you may be missing out on a flavor combo that you LOVE, you just didn't know it yet. Plus, what happens if you fall in love with one flavor of chip and then the store stops carrying it (this has totally happened to me, and it's annoying).
Tools needed to make dehydrated vegetable chips
Mandoline slicer - This is one of the newer tools to our kitchen arsenal (at the time I'm writing this). This is the tool you NEED if you're going to be making homemade chips of any kind. I like this one, because it's mostly metal, and it comes with cut-proof gloves (SO necessary).
Cut proof gloves - These keep your hands safe when cutting the veggie chips using the mandoline slicer. Do not use a mandoline slicer without them. Here's a pair you can grab on Amazon now.
Parchment paper - These pre-cut sheets are big time savers and eliminate waste when you tear the parchment to be too big (or too small to use).
Baking sheet - I like when I have two baking sheets that fit side-by-side in the oven, but use what you've got!
Ingredients used to make homemade dehydrated vegetable chips
How to Make Dehydrated Vegetable Chips
To make homemade oven chips, it's a simple four step process.
Wash & peel (peeling optional)
Slice them uniformly
Coat with oil & flavors
Bake in oven.
Oh, and I guess step #5 is ENJOY :).
Step 1: Wash & Peel
We typically don't peel the veggies. But we buy organic and scrub them pretty good before slicing.
Step 2: Slice them uniformly
Next, you'll slice your vegetables into thin slices with your mandoline slicer, or by hand (if you're better with a knife than I am).
Any time I've tried to slice something uniformly with just a knife and cutting board, I usually end up doing the opposite. They're usually close in size, but certainly not what I'd call "uniform". Especially if I'm going for thin slices like in these chips.
Which is why I love the mandoline. You can do a couple test slices to see how thick you want it. I like mine to be not so thin you can see through them and flop them around, but also not too thick (about ⅛" thick).
Step 3: Coat them with oil & seasonings
Next we're going to toss them in a little oil and salt and place them in a single layer on a parchment lined cookie sheet. I recommend using olive oil or avocado oil.
If you've been wondering how to make your veggie chips better, make sure you're using the right technique, then add FLAVOR! Here are a few flavor ideas that haven't been fully tested, but should help your creative juices start flowing.
Step 4: Bake in the oven
You want the chips to be in a single layer on the baking sheet. This is important so they cook evenly.
Bake at 350 (F) until the edges are curling up and starting to brown. The cooking time will vary based on the thickness and the type of vegetable you're using.
Baking tips
If you're slicing them SUPER thin, watch them closely at the 10-15 minute mark. Every oven is different and they can go from done to REALLY done in a few seconds. If some chips bake faster than the others, remove the ones that are done first.
If they're a little thicker (⅛" ish), they'll cook in 20-30 minutes.
And if they're really thick, they'll take even longer (also - they won't be chips if they're TOO thick).
We've used this recipe using beets, sweet potatoes, and parsnips. I'm excited to try different seasonings next.
If you really want them paper thin, try cooking them in a 250(F) oven for a long time (one hour or more). We've only tried this once because I typically don't give myself enough time.
FAQ & Recipe Tips
What is a Mandoline Slicer? Do I need one for this recipe?
A mandoline slicer is a tool (shown below) that has a sharp blade for cutting food to your desired thickness. Basically, you put something on the board, slide it down across the blade and it slices your food.
With this specific model (the one we have is pictured below), you can adjust the thickness to be paper thin or a bit thicker. I think ours goes up to 9mm thick, but I usually just eyeball it.
Why are my homemade oven chips soggy?
There are a few reasons this could be happening:
You're using too much oil
Your chips are too thick
They're too close on the baking sheet
You haven't baked them long enough
With just a few adjustments, you should be able to get crispy delicious chips the next batch.
Should you soak homemade chips before cooking?
The theory with the soaking is for using potatoes (not sweet potatoes). It's recommended (although I've never personally tried it) to soak the potatoes and then pat them dry. The reasoning is that by soaking them, you'll be removing the excess starch, and your chips will be crispier.
Related Recipes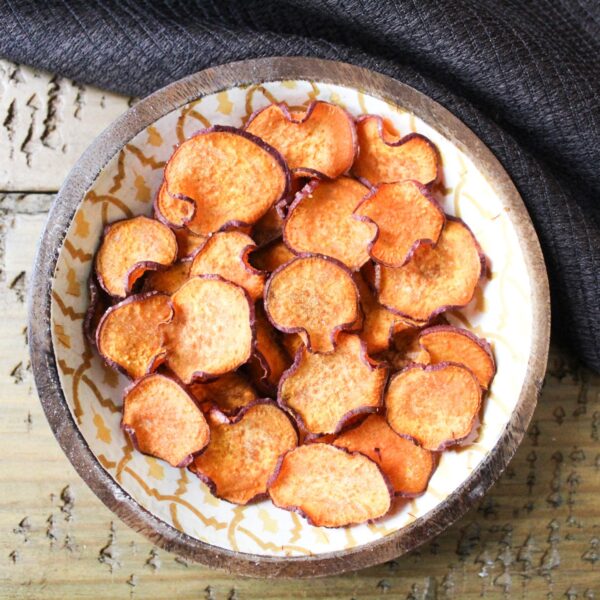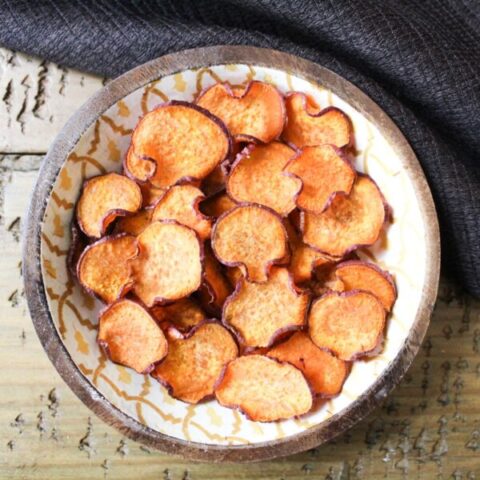 How to Easily Make Homemade Veggie Chips With A Mandoline Slicer
Make these easy veggie chips in your own kitchen in minutes with a mandoline slicer.
Ingredients
One medium root vegetable (beet, sweet potato, parsnip)
1-2 teaspoon avocado oil (or olive oil)
pinch of salt
Instructions
If desired, peel your vegetable before you get started.
Preheat oven to 350(F)
Next, using your mandoline slicer, slice the root vegetable to your desired thickness (I've found about ⅛" works well).
Next, coat them with the oil either with a pastry brush on the baking sheet, or toss them in a bowl. You want a little oil on each chip, but not so much that they're going to be fried in oil.
Make sure they are spaced evenl on the baking sheet with a little room between each chip.
Bake in your oven for 15-30 minutes (more for thicker chips, less for thinner chips). Keep an eye on them and when they start to turn brown, take them out and remove them from the baking sheet.
They should crisp up more as they cool down. If they don't, you can stick them back in the oven for a couple minutes.
Enjoy!