Some of the links on this site may be affiliate links. This means, at no additional cost to you, I may be paid a small commission if you follow the links and make a purchase. Learn more here.
There are two types of people in the world.
People who love organizing
People who don't
If you're in the Type 1 camp, you LOVE organizing. You find joy in sorting and de-cluttering your stuff. You love finding new ways to arrange items and a day cleaning out a closet is a good day in your mind.
If you're in the Type 2 camp, organization doesn't come naturally to you. You have to work at it. Maybe you keep trying to find systems that work for you, but they don't last long. And it's not much fun either.
Everyone Loves BEING Organized
It really doesn't matter which camp you're in. Because I really believe that everyone is happier when things ARE organized. Whether you loved the path you took to get there, or hated it.
Organized Kitchen
When it comes to your kitchen, what does it mean to be organized?
To me, it means:
Having a plan for what I'm cooking during the week.
Keeping the counters clutter-free
Giving myself a little margin (which often means more structure and routines for the whole family).
Let's talk about each of those.
1. Meal Planning Made Easy
Meal planning is my secret weapon. It's the only way I can make home-cooked meals almost every day of the week. Every single week.
And the fact that it feels like a super-power, just makes me want to help others do it even more.
The way I make meal planning work for me (and I HIGHLY recommend finding ways to make meal planning work for YOU) is using a meal planning template.

Ready to save hundreds on your grocery budget?
Make a meal plan today!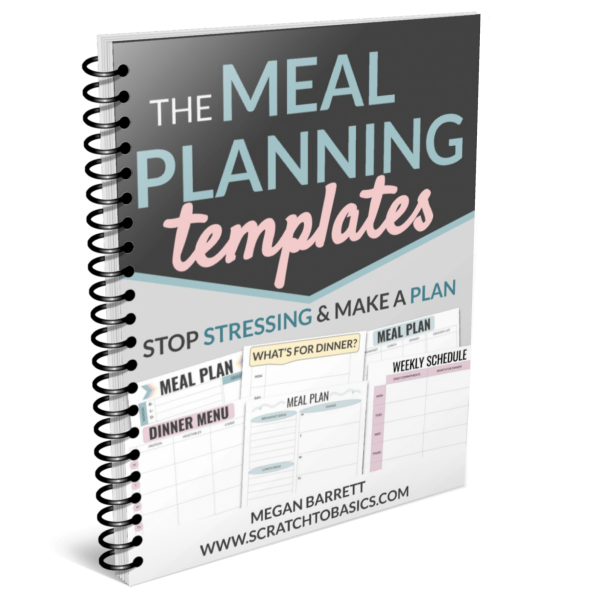 Get started meal planning and save hundreds every month with this bundle of meal planning templates. Opt in below to get this PDF delivered directly to your inbox.
To learn more about getting started with meal planning, read these posts. You won't be sorry. Pinky promise.
2. Clutter-Free Counters
You guys know what it's like…right? When you take a look at your kitchen counters, spread amidst the cooking appliances is some trash, the mail you haven't sorted yet in one pile…and the already sorted mail on the other side of the kitchen…waiting to be put away, or dealt with.
And then there's that random receipt you found in your pocket. Not sure where it came from, or if it's important, so you set it on the counter….to be dealt with at a later time.
Of course, there's also the rocks your kids insist on bringing inside as their "treasures" and a pile of legos you were able to spot before you stepped on them.
My point is…
Often our kitchen counters become the landing zone for things that don't belong in the kitchen.
Toys don't belong in the kitchen.
Bills don't belong in the kitchen.
Rocks don't belong in the kitchen.
You know what does belong in the kitchen? Food. And cooking gear. That's it.
For some genius ideas to de-clutter those counters, check out this post. There's ideas for getting your produce pile under control, and options for doing something useful with all the other stuff.
Your counters will be happy, and so will YOU!
3. Give yourself some margin
Usually when I look around and the house is a mess, it's usually a sign that I'm too busy.
Too busy to clean the kitchen, too busy to pick up the toys, too busy to fold the blankets.
Don't get me wrong…I don't think the house you live in needs to be perfectly clean all the time.
Not at all.
My house is never perfectly clean. It's always just sort of clean.
And it's usually a room-by-room thing. When the kitchen is clean, the kids' play room is a disaster.
When the play room is clean, the kitchen has dishes piled in the sink.
And that's fine. There's nothing wrong with that.
But when EVERYTHING is a mess, and you feel like just crawling under a rock because you're so stressed by the weight of everything on your to-do list….that's a problem.
But don't worry. We can fix it.
I recently binge watched this course created by Hilary over at Pulling Curls. It teaches you TONS of ways to get your family running on routines.
Because if most of the day-to-day tasks are automated, your brain has time to think.
You have time to:
Shower AND dry your hair. Instead of running around with wet hair trying to get your kids ready to leave the house for school.
Get that closet organized like you've been meaning to for…you know…months? years?
Take a deep breath and practice some self care (here's 32 self care ideas).
Check out her course here. I seriously can't recommend it enough.
We're just entering a stage where our kids are old enough to be helping more than they are (they're 5 and 3). And in the few weeks since I finished Hilary's course, we've already put some of her ideas into practice.
We've created a family chore chart (that the kids are actually excited about). And we've been slowly organizing, sorting through, and getting rid of the stuff that's just cluttering our house, and our minds.
And if you've already got the routine thing down, but you wish you had organizational systems to figure out how to best sort through and categorize all the "things"…Hilary's got a plan for that too. It might be JUST what you're looking for. Again, thanks Hilary!
Don't forget To Pin this for later…