Some of the links on this site may be affiliate links. This means, at no additional cost to you, I may be paid a small commission if you follow the links and make a purchase. Learn more here.
Have you lost that cooking *spark*? Does cooking feel equivalent to lifting a giant boulder? You might be in a cooking rut. This post will walk you through everything you need to know to tell if you're in a cooking rut right now PLUS how to get out of it as quickly as possible.
The thing is...each of us has a relationship with food.
And just like your marriage has highs and lows, so does your relationship with food.
When you first met your husband, likely you had more highs than lows. You got married, entered that "honeymoon" stage where it seemed the other could do no wrong. And then you probably came back down to the "real world".
Maybe you hit some bumps in the road, and instead of floating on cloud 9, enjoying every single thing about your husband, you started to notice that...while he's still amazing...he's just a person.
But here's the thing...a bump has a high part AND a low part. If you want to get to the high part, you've got to learn how to get through the lows whenever they come up.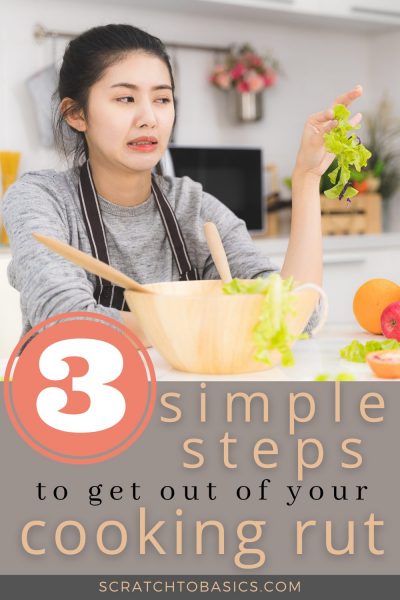 So now I want you to transition this metaphor to your relationship with food.
I want you to think of a time when you cooked a meal and you enjoyed the process. Maybe it was fun because it was so easy (and tasted so good). Or maybe it was fun because of the people around you at the time. Or maybe it was enjoyable because it was a holiday celebration and you LOVE being festive.
That's your cooking "high".
Now, think of normal, day-to-day life and how you interact with food. Are you always on cloud nine? Or are there days (maybe every day right now) where you dread stepping into the kitchen and thinking about what you're going to make.
This is a cooking "low".
I like to call it a "rut".
What's a cooking rut?
A cooking rut is a season of feeling "meh" about food and cooking. It happens to all of us at one point or another, and the important thing to remember is that it's JUST a season. Meaning...it WILL pass.
How to tell if you're in a cooking rut
If you're not sure if you're in a cooking rut, here are three ways to know for sure...
Cooking doesn't feel fun like it used to. Maybe it feels hard, or uninteresting, or you just feel uninspired.

You used to have a lot of ideas for recipes to make, but now when you step into the kitchen to cook, nothing comes to mind. In fact, you might even find yourself making the same three meals on repeat.

You find yourself opting for takeout more than you used to, because it's easy and you don't have to think as hard when someone else makes the food.

How to get out of a cooking rut
Okay, so you're with me now. You've identified that you're in a cooking rut, and now you're ready to get out of it. You want to get back to cloud nine where cooking is fun and easy, and recipes inspire you to try new things, and all is well in the world.
I get it. Believe me I do.
I've had my share of cooking ruts, and just like a bad attitude, they're not fun to have or be around.
So here are three steps that will get you OUT of that rut you're in.
Step 1: Identify you're in a "rut"
The first step is simple. Identify that you're in a cooking "rut". Admit that this isn't the way things have always been, and it's not how things will always be. It's a season, and it's temporary.
Step 2: Pinpoint bottleneck problem
Next, we need to pinpoint the problem. I like to think of these problems as bottleneck problems. Because if things are stuck, and not working like they used to...there's usually a reason. And often, it's very simple to fix (once you identify what it is).
The hardest part is usually figuring out what the problem is. It helps to talk it over with somebody else - a friend, family member, or someone else who supports your health goals.
If you don't have anyone to help you through it, you can hire someone to help you talk it over.
Step 3: Make a plan to get yourself OUT of it
The last step is to make a plan to get out of it. You can only eat chips & salsa for dinner for so long. As soon as you recognize the rut, pinpoint what part of cooking is holding you back, then it's time to take steps to get OUT of the rut.
This could be as simple as sitting down to make a meal plan for the next week. With dinner planned, that's one less thing you need to think about throughout the week. Overload avoided!
Related: Six scenarios that scream "YOU NEED A MEAL PLAN!"
Or maybe your plan includes letting your husband cook dinner for a couple nights to give you a night off.
Whatever you need, make a plan for it to happen and follow through with your plan.
What about you? What's your secret to get you out of a cooking rut?
Save this for later!