I am extremely passionate about helping you prioritize your health without feeling like it's just another item on your to-do list. Because I firmly believe the best and most effective way to be the best mom you can be is by making sure your needs are met BEFORE meeting everyone else's needs.
It's like in an airplane. Put on your mask before anybody else's.
I would love to talk with you about how we can work together and get you from a place of overwhelm to being confident, and completely in control of your life, schedule, and overall well-being.
How can we work together?
Join me in my FREE Facebook group here. This is a community for women to connect, build relationships, and offer encouragement to each other on our motherhood journey.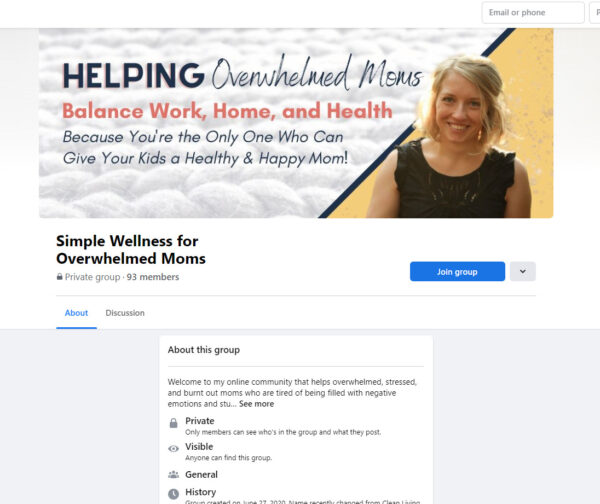 Motherhood is full of hard things, but that doesn't mean we have to be stuck in overwhelm forever. You have the power to move OUT of overwhelm, and that's what this group is going to help you with.
One-On-One Coaching with Megan
In 2019 I experienced two back-to-back miscarriages. Obviously, it was rough.
But it got me thinking that maybe my health needed some attention. After getting some testing done, I was diagnosed with Hashimoto's (an autoimmune thyroid disease). So, yeah…my health DID need some attention. After years of being too busy to pay attention to my body, I was forced to make a choice:
Keep doing what I was doing, living the way I was living, and the doctors said eventually my thyroid will "stop working completely" even with medication (umm…what?)
Make some changes: change the story, change the outcome.
Well, I chose door #2. And after a year and a half of a firehose of information working with a functional nutritionist, here's what happened:
I was able to give birth to baby girl #3
I realized that my body actually does have needs
I learned that by taking care of myself, I'm teaching my kids to do the same
Allow me to boil everything I learned down into one key takeaway:
You've got to make YOU a priority.
Sounds so simple, right? But if it really IS so simple, why do we continue to put our kids first, even if it means ignoring OUR needs?
Why do we, as moms, give so much away in "service" that at the end of the day, our family is left with a cranky, burnt out, stressed version of us that yells at them at the drop of a hat?
It's because we don't even see what's happening. We've got blinders on.
In order for you to change your story, you need an encouraging voice in your corner telling you it's okay to take time for yourself, it's okay to move yourself up onto the priorities list, and it's definitely okay to stop stressing yourself out to keep everybody else happy.
I want to help you simplify your life so you can show up as the healthiest version of you (and in doing so, you'll realize that what's best for YOU is actually what's best for your kids, too).
So if you're the one keeping all the balls in the air and prioritizing YOU has been pushed to the back burner, email me at [email protected] with subject line: COACH ME. I want to work with you!