Some of the links on this site may be affiliate links. This means, at no additional cost to you, I may be paid a small commission if you follow the links and make a purchase. Learn more here.
Some stores have already released their Black Friday ads, and the others will be doing so in the next couple weeks. I'll be continually updating this post with new information as it becomes available! If you'll be shopping for kitchen gear this Black Friday, bookmark this page and check back for more deals in the next couple weeks!
---
Here's your roundup of the best Black Friday kitchen deals for 2019!
I've searched the ads and listed all the best kitchen deals. I've also included Amazon links for your convenience (so you can check reviews and compare prices). Amazon changes its prices so often it's hard to keep up. They've been known to try and beat other Black Friday prices out there, so it's best to check before deciding where to get it.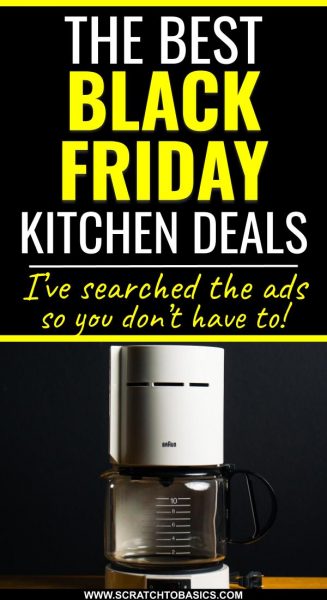 I used to be a wake-up-early and shop, shop, shop kind of girl. And then for a while I went the other direction and was completely against the consumerism of Black Friday.
Today, I'm somewhere in the middle. I plan on doing some shopping during the great sales for Black Friday (because I'm a thrift-store, bargain shopper at heart). But I truly believe there is so much more to the holiday season than getting a good deal. It's about spending time with others, making memories that will last, and spreading love, joy, and hope.
Related: 107 Thanksgiving Vegetable Side Dishes
In fact, I might NOT shop in the stores at all…we'll see how it all works out. But wouldn't it be nice to get all the great deals and avoid the lines, parking, crowds, and just plain craziness of Black Friday shopping?
What about you? Are you an in-store kind of shopper? Or sit in your PJs and shop the sales online?
Gift Guides
Are you buying gifts for family and friends this Black Friday? Click around to find the perfect gift for your family and friends.
---
Important Info & FAQ
---
WHEN IS BLACK FRIDAY 2019? Black Friday this year will be on Friday, November 29, 2019.
WHAT'S WITH THE AMAZON LINKS? I've included Amazon links for you to compare prices and read reviews of the products. Often the Amazon Price will match or beat the Black Friday price in the ads, so be sure to check and see which is the best deal. Amazon continually changes their prices, and I am not allowed to put their prices on my blog post…so you'll just have to check for yourself!
WHEN DO THE STORES OPEN // WHEN DO THE SALES START? Listed below are the times and dates of sales for each store. I'll be updating this as the stores release their Black Friday hours for 2019.

Kohls: Stores open on Thanksgiving at 5pm, but you can shop doorbusters online starting 12:01 a.m. on Thanksgiving Day. Earlier deals (not doorbusters) launch online at 12:01 a.m. on Nov. 25.
Macys: Opens 5pm on Thanksgiving, opens 6am Friday.
Sam's Club: Closed on Thanksgiving. Opens at 7am Friday. Shop sales online on Thanksgiving day.
Target: Doors open 5pm Thursday, doors close 1am Friday, doors re-open 7am Friday. Shop online starting 12AM Thursday.
Best Buy: Doors open Thursday, November 28 at 5pm, shop online all day.
Costco: Early deals from their Holiday Savings Book go from Nov 7-Nov 21. Costco opens at 9am on Black Friday, closed on Thanksgiving.
Fred Meyer: Closed Thanksgiving, open at 5am on Friday.
True Value: Closed Thanksgiving, Black Friday hours TBD
JCPenney: Doors open 2pm Thanksgiving, start shopping Black Friday starting Wednesday 11/27 at JCP.com.
Walmart: Doors open at 6pm on Thanksgiving night, shop the sales all day Friday. The online sale starts Wednesday, Nov 27 at 10pm ET.

WHAT INCENTIVES ARE THERE FOR EACH OF THE STORES? Each store offers different types of incentives to get people to shop at their store. Here's a list of different incentives for the stores (updated as their incentives are published).

Kohls:

Offers $15 Kohl's cash for every $50 you spend Nov. 25-Nov. 29. Also, use their 15% off coupon on page 3 of their ad.

Macys: $10 off $25 coupon and $25 off $50 coupon (with a few restrictions). Also a pair of diamond earings for $30 when you spend $50 or more.
Target: Friday only save $50 and get a coupon for 20% a future shopping trip between Dec 3-14, FREE 2-day shipping through December 21.
Best Buy: Free shipping on everything all season long (Oct 22-Dec 25)
Fred Meyer:

Free coffee, juice and donuts to early morning Friday shoppers. Free gift card to the first 100 customers.
True Value: Earn 2X rewards on everything in their ad on Black Friday AND a 50% off coupon for one item $50 or less Nov. 18 – Nov. 24.
JCPenney: Be first in line on Thursday for a chance to win a $500 off coupon or $100 off coupon, or $10 off coupon
Walmart: Get up to $700 in gift cards with qualified activation, installment plan and trade-in on select Apple & Samsung smartphones.
How to Save Even More mOney
Ibotta – Use this FREE rebate app to get cash back on the items you're already buying!
Honey – Use this FREE browser extension to notify you of better deals on another website.
Rakuten (formerly Ebates): Use this FREE website to earn cash back for shopping online.
Top Black Friday Kitchen Deals
Most unusual Black Friday deals on Amazon
First, let's talk about some of the more humorous and unusual items on sale this Black Friday inside Amazon's Black Friday ad.
Meal Planning Black Friday Deals
Erin Chase's amazing deals – The creator of some of my favorite things (Grocery Budget Makeover and My FreezEasy) has some incredible bundle deals this year!
Prep Dish – Paleo & Gluten Free Meal Plans – All subscriptions 50% off with SCRATCHFB19
Healthy Living Black Friday Deals
grocery & everyday essentials On sale
Instant Pot Black Friday Deals
Air fryer Black Friday deals
Crock pot Black Friday Deals
Coffee Maker Black Friday Deals
Blender Black Friday Deals
Food Processor Black Friday Deals
Kitchenaid Mixer Black Friday Deals
Cookware Black Friday Deals
Knife Set Black Friday Deals
Kitchen Gadget Black Friday Deals
Pyrex Black Friday Deals
Smoker & Grill Black Friday Deals
Miscellaneous Black Friday Kitchen Deals
Kitchen Toys For Kids
Pin this for later