Hi there! I'm Megan. I'm a follower of Jesus, a wife to a loving husband, and a mom to two sweet little girls. I love cooking and eating delicious food. Especially if there's chocolate involved. When I'm not cooking you can find me outside on our farm or chasing giggling girls around the house.
I started this blog to provide help people see the power of real food. Simple, delicious, and nourishing food.
About a year ago, my husband and I decided to follow our dreams. We moved from our comfortable suburban home to a small house on five run-down acres in hopes of starting a mini-farm. We're on an adventure, that's for sure. On this adventure we're simplifying our life to focus on what matters.
I'd love to have you join me on this journey. The best way to stay connected is to sign up here. You'll get a free meal planning template bundle as a gift for signing up to my weekly email list.
Simple Scratch Recipes
I'm a firm believer that food doesn't have to be complicated to be delicious. I make delicious food daily and it's NEVER complicated.
Trust me.
I don't have time for complicated. I need easy. Easy to remember recipes, simple ingredients, and fast recipes that are packed with nutrition and flavor.
Right around the time I started this blog, I began a food journey of my own. I've been wandering down the road of elimination diets and food sensitivities.
I've learned that I feel best when I avoid certain foods. For that reason, most of the recipes you'll see on the blog are gluten free, dairy free, and/or Paleo.
Real and Sustainable Food
My family and I are on a journey towards living a simpler life, growing our own food, and spending time on things that matter most. We are paying more attention to where our food comes from, and what's inside it.
Our food systems are broken and are in need a BIG fix. But despite the HUGE need for change, and despite the fact that I'm just one ordinary person, I'm still encouraged.
I believe we can make a difference by making sustainable choices to eat real food each day.
For example...
Choosing to support local and sustainable farms and buy organic produce
Finding real food alternatives to the processed junk in the stores
Buying meat from farms who raise their animals ethically and sustainably
Our family moved to five acres a couple years ago to be able to take part in providing local food for our family and the community. We've raised pigs, chickens, and goats. I've even milked our goats and made goat cheese (yum!).
Life is an adventure, and I'm so thrilled to be where we are.
Meal Planning Made Easy
I started meal planning years ago. It started simple (just a chalk board to write down the dinner ideas for the week), and has evolved over the years.
I still think my system is pretty simple (because remember...it doesn't have to be complicated for it to work). Although now I make my grocery list at the same time, and I often try to plan out shopping the sales at the store and stock up on the sale items.
Meal planning is what allows me to cook homemade dinners from scratch almost every night of the week. Every single week.
I want you to be able to feed your family real food. Homemade, simple, and absolutely delicious food the way God made it.
Sign up here to get my personal collection of meal planning templates to get started down your real food journey.
Ready to Save Hundreds on Your Grocery Budget?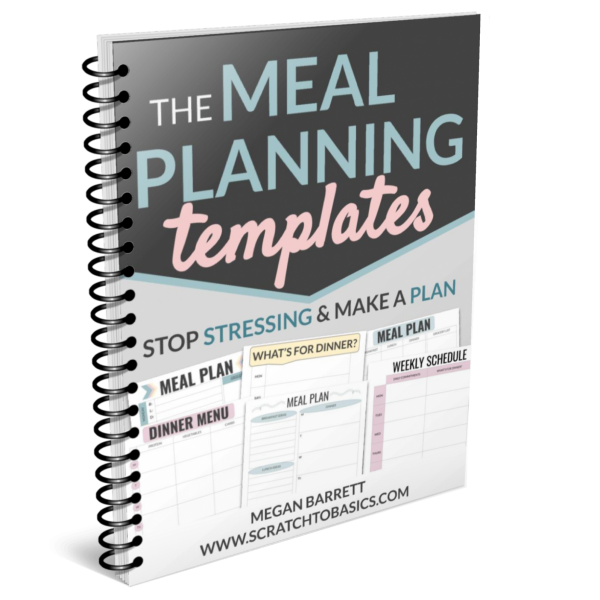 Make a Meal Plan Today!
Get started meal planning and save hundreds every month with this bundle of meal planning templates. Opt in below to get this PDF delivered directly to your inbox.
What to Expect
Here on Scratch to Basics, I'll share about all things food as well as cooking tips & tricks. And I'll do my best to keep things simple. Here's what you can expect from me:
Scratch recipes from my kitchen to yours. We avoid the junk in processed food by making a lot of our own food. Think of it as the intersection of DIY and food. Simple recipes for delicious food.
Meal planning & Cooking tips. Cooking for your family shouldn't be stressful. I'll provide simple and actionable tips to make your food goals a reality.
Opportunities to live a more sustainable life. Whether by switching out your beauty products and cleaning supplies for non-toxic varieties, or adjusting where you buy your groceries, there are plenty of simple steps we can take towards a more natural, sustainable life.
Not everyone can move to a farm like we did (let's be honest...most people don't want to move to a farm like we did). But everyone can take steps to simplify the craziness of life and focus on what's important.
Although avoiding the processed junk food and toxins takes effort, I KNOW it's worth it.
And, more importantly, I know that YOU are worth it.
I'd love to walk with you on your journey and share what I'm learning in mine.
No matter what brought you here, I'm so glad you're here. Please feel free to email me at [email protected] with any questions you might have.