Some of the links on this site may be affiliate links. This means, at no additional cost to you, I may be paid a small commission if you follow the links and make a purchase. Learn more here.
So you've got a picky eater? Yeah, I've been there. In fact, I was a picky eater when I was a kid.
My poor mother.
I wouldn't even touch a vegetable without making the "gross" face.
Now that I've had my share of those moments with my kids, I know how frustrating it can be. Here are some simple tips to help you navigate meal times with a picky toddler.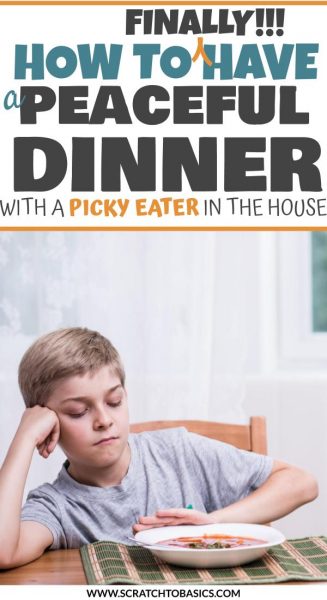 I get it...you work hard to cook dinner while juggling the kiddos, and you can't wait to sit down and enjoy the delicious food you made.
The table is set with plates, glasses and silverware. You've double checked that everything is ready and now it's your turn to sit down and finally relax.
And then JUST as you're about to take a bite, your picky eater sees their food and says, "ewww...I don't want to eat this!". Does that sound familiar at all?
When you have a picky eater in your family, meal times can be a challenge. Especially if you're not willing to give into the conventional "kid friendly" boxed foods.
But sometimes the thought crosses my mind...wouldn't it just be easier to let them eat boxed macaroni and cheese for every meal? Then I wouldn't have to deal with the complaining and negotiating. Do they really need vegetables?
I've been there...on both sides of the situation (sorry mom).
How Do You Know if You Have a Picky Eater?
Sometimes a picky eater is obvious to spot. But maybe you're not sure if your kid really deserves that label. Here are a few ways to tell (for sure).
The texture or color of food impacts whether they'll eat it or not.
They eat a very limited amount of food. Maybe there's only a few things that they're willing to eat.
They aren't willing to try new foods.
Is it Just a Phase?
Most kids go through a picky phase. This is just part of growing up. As the parent, it's your job to come alongside them and find ways to encourage healthy eating habits.
You never know, today might be "magic day" (a phrase my mother-in-law used with her kids). If you're concerned your child isn't eating enough food, consult your doctor.
If your child seems to struggle with depression or anxiety, first consult your doctor. But also check out this list of foods that can help fight depression and anxiety in kids.
I've done some research (and used my own experiences) to provide you some tips that can help you navigate this frustration situation.
Tips To help your picky Eater before you even sit down...
Here are some things to do before you even sit down at the table. When you're planning the meals for the week and when you're preparing the meal, try some of these suggestions.
Related: Meal Planning Templates To Make Your Life WAY Easier
Don't change everything at once
Raise your hand if you've had an awful scream-fest at the dinner table with a toddler who's TOO hungry. Sometimes this happens at breakfast for me. Usually when my youngest didn't eat much of the meal the night before. So when she wakes up, she's too hungry to even think straight.
When trying something new, make sure there's always at least one familiar thing on the plate. This can help your kid from getting overwhelmed by all new food on their plate.
If there's one thing that you know they like (often fruit in my house), put it on the plate with the new food. Likely they'll start with the familiar food and then move on to something else once they have a little food in their belly.
Let your kids help in the kitchen
Young kids can add ingredients, stir the ingredients in the bowl, or "chop" with their kid knife. Here's a list of kid cooking tools to make it fun. For older kids, let them read the recipe and measure ingredients.
My friend Katie has a whole business dedicated to teaching kids to cook. Check out this post of hers with 20 healthy recipes kids can make BY THEMSELVES. Yep, you read that right. Soon they'll be making your dinner.
Related: Kid's Cooking Tools That Make Cooking WAY More Fun
Ask your kids to be your taste tester
This works really well with my kiddos. Before I dish up their plate, I ask them to help me taste the food and see if it needs anything else. My five year old usually says, "it needs a little salt". Sometimes I agree, other times I don't.
The point isn't to let them ruin your meal by adding WAY too much salt. The point is to let them feel like they're on the "inside".
By letting them have a taste test, they know what to expect when they sit down (and they think they're a part of the meal production).
If you think your kid would like to learn how to cook more food on their own, but you're not sure you have the patience and/or time to teach them, get on the waitlist here for Katie's video course that will teach your kids how to cook.
Give Them a say
One thing we've been doing lately is we let each kid come up with meal ideas for the week. Sometimes kids just want a little more control of their lives. Let them help you meal plan by picking one meal that they really want to eat.
Tips to help your picky eater at the dinner table...
Try these tips when you sit down at the table to help your picky eater. Remember it's just a phase and won't last forever.
Make it fun
A fussy toddler can often be transformed into a giggling kid pretty quickly when their food starts talking to them about how much they want to go in their bellies. It's your decision if you want to allow playing with food. Once you start it, it's hard to change directions.
Lead by example
I got matching Christmas jammies for our family this year on Black Friday. My kids LOVED it. Honestly, we love it too because they're super cozy. They love it so much because they want to be like us. We are their role models and they do what we do.
So when you're eating together, let them see you eating the same food that's on their plate. And tell them how much you like it! Bonus points if you eat vegetables often. Sooner or later they'll ask to try them (remember...they want to be like you).
Rewards
The "food as reward" system works like this...if they eat all their noodles and want another serving but they haven't touched their broccoli, you can "reward" them for eating their broccoli with more noodles.
Now, this might not work for every family. Your kids might catch on and start expecting rewards in other areas.
But we've successfully used this method with our kids on occasion. So far, it works well when we stick to non-dessert items as rewards. If we start talking about sweet things, interest is often lost on the meal and the focus is on dessert.
Be patient with them
Remember it's likely just a phase. If you're calm and patient with them, they'll come around eventually. If you're really concerned with your child's eating behavior, discuss it with your doctor (I am not a doctor).
Tips to Help your Picky eater after dinner...
After you're done eating and between meal times, talk with your kids. Educate and encourage them to make healthy choices with food.
Related: 5 Ways to Teach Young Kids About Healthy Eating
Teach your kids about healthy food
Kids are like little information sponges. They LOVE learning and want to know everything they can about the world around them.
So explain the food groups and teach them that a balanced diet will help them grow big and strong. It's helpful to some kids to understand why they need to eat healthy food.
If you put it in terms they understand, they might be more motivated. Try telling them, "this meat will help your muscles grow big and strong" or "this avocado helps your brain so you can learn and have exciting adventures".
Don't give up
I know meal times can feel like an endless (and repetitive) battle. And maybe you're feeling like you'll never get your kids to eat a vegetable ever again. They will. Just keep at it. You can do it, you're doing great!
Don't forget to Pin this for later!